by Susan Roberts
I enjoy reading novels and usually skip short stories and novellas but I made an exception with these two novellas by Fredrik Backman. Though both are very short, they are full of poignant insights into life and death and contain messages that will resonate with readers.
Amazon affiliate links are used on this site.
The Deal of a Lifetime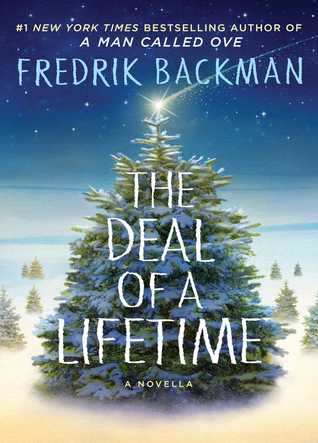 October 2017; Atria Books; 978-1501193491
audio, ebook, print (96 pages); holiday
This is a short little novella packed full of insights about life and death. It's a short Christmas story told by a father to his son - but it's not a normal Christmas story. The father has been an absentee father and has just found out that he has cancer. He really isn't sure of what feelings his grown son even has about him because he had put his goals of wealth and success way ahead of the time he spent being a parent. When he has the chance to do something to help someone else, he first needs to find out how his son feels about him and whether his life had even been worth anything to his son and the world. This is the basis of his Christmas story.
This book made me cry and also caused me to question some of my priorities. It's a wonderful thought-provoking story.
Buy The Deal of a Lifetime at Amazon
And Every Morning the Way Home Gets Longer and Longer
November 2016; Atria Books; 9781501160486
ebook, print (96 pages); humor
It's difficult to say anything about this novella - except that I urge you to read it. It's a beautiful story about a grandfather and his grandson, Noah (or Noahnoah as his grandfather calls him because he likes his name more than anyone else's) and the changes in their relationship as the grandfather is losing his memory and Noah is trying to help him remember all of the important parts of his life. I cried throughout the book and had to read it a second time as soon as I finished it - and I cried again. It is just so beautiful and sad and hopeful and lovely. One of my favorite lines (and there were many)
"That's why we get the chance to spoil our grandchildren, because by doing that we're apologizing to our children."
Buy And Every Morning the Road Home Gets Longer and Longer at Amazon
Susan Roberts lives in North Carolina when she isn't traveling. She and her husband enjoy traveling, gardening and spending time with their family and friends. She reads almost anything (and the piles of books in her house prove that) but her favorite genres are Southern fiction, women's fiction, and thrillers. Susan is a top 1% Goodreads Reviewer. You can connect with her on Facebook, Goodreads or Twitter.
Get even more book news in your inbox, sign up today! Girl Who Reads is an Amazon advertising affiliate; a small commission is earned when purchases are made at Amazon using any Amazon links on this site. Thank you for supporting Girl Who Reads.