by Susan Roberts
Summer is almost over and it's time for the kids to go back to school. The weather is still hot but we know that fall is getting close. Here are three books publishing in late August that I enjoyed. One is psychological suspense, one is dystopian and one is historical fiction so there should be a book for everyone to enjoy!
Amazon affiliate links are used on this site. Free books were provided for an honest review.
Not Her Daughter by Rea Frey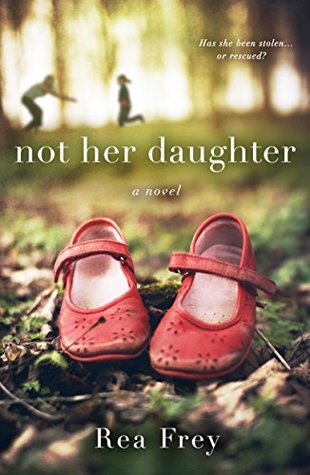 August 2018; St. Martin's Griffin
978-1250166425
audio, ebook, print (352 pages)
women's fiction
Clear your calendar, turn off your phone and find a comfortable place to read before you start this book by Rea Frey. Once you start it, you won't want to put it down and once you finish it, you'll be thinking about it for days after. Trust me, it's that good!!!
Sarah is trying to get over an emotional break up with her boyfriend. The break up increases her long-term feeling of abandonment because her mother walked out on and her father when she was a child. Sarah first sees Emma at an airport where her mother Amy is yelling at her and cruelly pulling her along. She mentally fixates on the little girl and keeps thinking about her. When she sees her again, she decides that fate is telling her that it's her job to rescue Emma - so she kidnaps her to give her a better life. The real question throughout the rest of the book is whether this was really kidnapping or was she rescuing Emma from her cruel mother. As the nationwide search for Emma starts, I was rooting for Sarah and hoping that she could keep Emma safe and from being discovered especially after more information is revealed about the biological mother and family.
The book is cleverly set up as BEFORE, DURING and AFTER with chapters by Sarah and Amy so the reader is able to get both sides of the story. It's a wonderful, well-written book that will stay in your mind after the last page. " Emotionally powerful and wire-taut, Not Her Daughter raises the question of what it means to be a mother—and how far someone will go to keep a child safe. "
SOON TO BE A MAJOR MOTION PICTURE
PopSugar – The Summer's Hottest Books
Brit + Co - 15 New Thrillers by Women That Will Give You Chills This Summer
The Zoe Report – 20 Books to Read this Summer.
She Reads - New Summer Thrillers to Get Your Heart Racing
Working Mother - 15 Hot New Summer Beach Reads
Buy Not her Daughter at Amazon
Vox by Christina Dalcher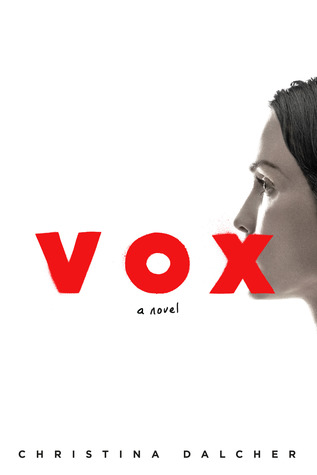 August 2018; Berkley; 978-0440000785
audio, ebook, print (336 pages); dystopian
I don't read much fiction in the dystopian genre but the premise of this book sounded very intriguing so I thought I would give it a try and I sure am glad that I did. This book kept my interest from beginning to the last page. If I had read it twenty years ago, I'd have thought that there was no way this could happen in real life but now I'm not too sure.
Imagine a country where women aren't allowed to work or hold public office, aren't allowed to have computers or to make any decisions about their lives. Imagine a world where girls and boys go to separate school - the boys learn all of the academic subjects and the girls learn how to sew and cook. Worst of all, imagine a world where women are only allowed to speak 100 words every day, the words counted on a bracelet that they wear on their arm and can't be removed, that will administer a strong shock if they go over 100 words in 24 hours AND the shock gets stronger for each additional word they speak. Where is this unbelievable country? In the new novel VOX - it's right here in the USA.
I loved this book and the way that the main character, Jean, handles her life and the lives of her family members after she is silenced as she struggles to stay within the new rules. The book goes back and forth in time from what life was like before this and how things gradually changed to what is going on in Jean's present day. Be prepared to be angry while reading this book but read it until the last page - it's a story that you don't want to miss. This is an excellent debut novel from this author and I look forward to her future books.
Buy Vox at Amazon
Sold on a Monday by Kristina McMorris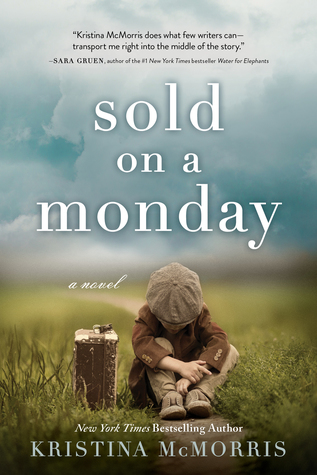 August 2018; Sourcebooks Landmark
978-1492663997
audio, ebook, print (352 pages); historical
The year is 1931 and the country is in the midst of the Depression. Men are scrambling to find jobs and mothers are trying to feed their children. A young newspaper reporter, trying to get his big break, is out in the country near his home taking pictures when he sees two young boys playing and a sign on the house that says "2 Children for Sale". He takes a picture, wishes he could help the family but then leaves to go back to this job.
Ellis Reed is the reporter and the picture of the two children provide him with his first big break as a reporter. He makes an error in judgment that can't be changed and has to live with the immediate consequences of his actions. As he tries to right his wrong, he is helped by Lillian Palmer, a secretary at the newspaper who has secrets of her own.
The characters in this novel are so well written that the reader is able to identify with them in their quest to make things right again. Even though the idea of selling children is repulsive to us, the author does such a fantastic job of describing what it was like during the Depression that we begin to understand the desperation that drove parents to sell their children and hopefully give them a better life. This is a book that will make you sad but will keep you turning pages to find out if love and family win.
Buy Sold on a Monday at Amazon
Susan Roberts lives in North Carolina when she isn't traveling. She and her husband enjoy traveling, gardening and spending time with their family and friends. She reads almost anything (and the piles of books in her house prove that) but her favorite genres are Southern fiction, women's fiction, and thrillers. Susan is a top 1% Goodreads Reviewer. You can connect with Susan on Facebook, Goodreads, or Twitter.
Get even more book news in your inbox, sign up today! Girl Who Reads is an Amazon advertising affiliate; a small commission is earned when purchases are made at Amazon using any Amazon links on this site. Thank you for supporting Girl Who Reads.