by MK French
Selina Kyle, the future Catwoman, is left homeless at age fifteen. Living on the streets of Gotham City is tough, and she has to struggle to survive. In a time of her life when she normally should be figuring out what kind of person she is, Selina also has to figure out how to achieve any of her dreams.
Amazon affiliate links are used on this site. A free book was provided for an honest review.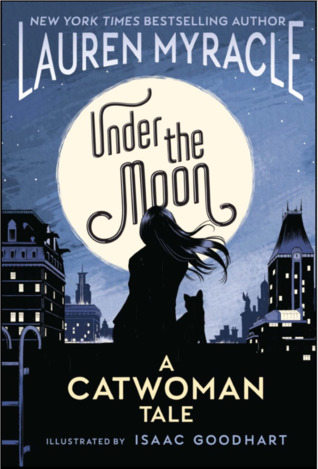 May 2019; DC Ink; 978-1401285913
ebook, print (208 pages); fantasy
Lauren Myracle has written other novels with a young adult voice, and has reached the New York Times bestseller list. That experience really shows in this graphic novel. It's a darker kind of reimagining of Selina's origin, which has been done several times in comics and movie series. Isaac Goodhart's art is done in shades of black, white and blue, which lends itself fairly well to the story, and the dream/fantasy/story sequences in shades of purple pop out visually.
From the beginning, Selina lived a hard life. Her mother was a waitress with a string of boyfriends that never treated her or Selina well, and some are downright abusive. While she values her academics, her loyalty to her friends trumps that or sticking to the letter of the law. So once she actually begins to care about someone else, it hurts that much more when it's gone. Living on the streets gives her a feeling of agency that had been lost, even if it's difficult to do. By making friends with street kids, she learns parkour and finds a new family of sorts, but it's one that comes with its own challenges. Cats along the way have an affinity for her, trailing her through the streets even when she's not seeking them out.
This isn't a happy tale, and does bring up the hardships of being a street kid fairly realistically for a comic. As hard as her life was before, it's harder still without a consistent roof over her head, a way to shower or get clean clothes, how to get food or necessities. Selina refuses to give up, and holds to her independence throughout the story. If anything is a takeaway from this, it's that there will always be opportunities to do more, even if it's off the beaten path.
Buy Under The Moon: A Catwoman Tale at Amazon
Born and raised in New York City, M.K. French started writing stories when very young, dreaming of different worlds and places to visit. She always had an interest in folklore, fairy tales, and the macabre, which has definitely influenced her work. She currently lives in the Midwest with her husband, three young children, and golden retriever.
Get even more book news in your inbox, sign up today! Girl Who Reads is an Amazon advertising affiliate; a small commission is earned when purchases are made at Amazon using any Amazon links on this site. Thank you for supporting Girl Who Reads.