by Donna Huber
If you read my May wrap-up post, then you know the most popular Instagram post was the picture of my cat Beau (left) with a stack of books. Since then the other two have also taken to posing with the books. Oliver (middle) was the last to see what the fuss was about and probably only because Pete (right) did it and he wants to be just like Pete. It actually took Oliver 2 photo ops to get the best pose. With him, I have to snap the picture fast or else he will realize I'm looking at him and come towards me to be petted. Beau's picture still has the highest number of likes on Instagram of the three with Oliver's second picture (the one here) has just slightly more likes than Pete's. I'm not telling Pete though because he is already anxious about Oliver displacing his position in the family.
Amazon affiliate links are used on this site.
Now I'm done talking about my cats (at least for this post). Unlike all the other months this year, June is crawling by. That's probably because I'm so busy at work that each day feels like it's 2 days long. We've been shorthanded at work so I've been trying to cover some of those duties which winds up being my whole day. I can't wait to get back to doing my own job in July. With being so busy at work, I'm exhausted so I'm not doing as much reading in the evenings. Thankfully I don't watch much TV in the summer so my "TV time" is spent reading. While I'm at work, I'm on the phone a lot more as I have to call to find answers to stuff that I don't normally handle, so my listening to audiobooks is down this month. I'll have to see how this week goes to see if I will read the 10 books I've been averaging each month.
Other than busy at work, it's been a pleasant start to summer. I took a day off to watch my niece perform at color guard camp and have spent a little bit of time in the pool at my parents' house. It has been wet and little cooler (than May) so not as much time spent in the pool as I would like, though the heat is creeping back in so hopefully July's weekends will be spent in the pool.
As I'm ready to wrap up June, let's take a look at what I've read and posted this month. (I'll update this post throughout the week, so if you are reading this on Monday for
It's Monday! What are you reading?
it might be a bit different when you stop by on Sunday for the Monthly Wrap Up meme.)
Popular Posts
Susan's most popular review for June:
The Summer Guests
by Mary Alice Monroe (
read the review
).
MK's most popular review for June:
Something Like Gravity
by Amber Smith (
read the review
).
My most popular review for June:
Meltdown
by GP James (
read the review
).

Other posts you might have missed...
I only did one discussion type post this month -
Keep Your Kids Reading This Summer
.
It's about the importance of reading during the summer months and its impact on academic performance when the school year resumes, plus I highlight two children's books I recently read.
Alison
discussed Sam Quinones's nonfiction book
about the opioid crisis
Dreamland: The True Tale of America's Opiate Epidemic
.
Susan and I name our
favorite reads of June
.
New Books Added
I've tried to be very careful about accepting new books and buying books as I really want to get through some of the backlog of books that I have purchased, accepted for review, and won. However, I did win Nicole's
Make Me Read It giveaway
at Feed Your Fiction Addiction (it's part of the Monthly Wrap up meme and there's still time to enter May's giveaway). I added
Within These Lines
by Stephanie Morrill to my "for review/giveaway wins" stack.
I also purchased two books to read in the pool -
Aunti Poldi and the Sicilian Lions
by Mario Giordano and
Death Comes to the Fair
by Catherine Lloyd were added to my purchased pile.
Books Read
So far this month I have read 9 books. I started the month really strong with finishing 5 books in 9 days, but it has slowed a bit between work and reading an enjoyable but dense biography in the later part of the month. Since it is audio appreciate month I was hoping to listen to more audiobooks, but I only finished 3. I started another one Monday morning but I don't know if I will finish it this week. I read 1 paperback, 1 hardcover, and 4 ebooks. One book was purchased, the 3 audiobooks came through Amazon's Prime Reading program, and 5 books were sent for review. Three books were over 400 pages: 1 audio (428 pages). 1 ebook (530 pages), and 1 hardcover (640 pages - though only 515 were reading and the rest were bibliographic notes and pictures).
Dawn of Spies by Andy Lane
I purchased this book last summer during one of Barnes & Noble's big sales but didn't get to it. I only bought it because it was really cheap and looked promising. It turned out to be a really cute story about a teenage Robin Crusoe. I'm familiar with the Crusoe story by Daniel Defoe, but I haven't read it. Defoe is featured in this story and presumably, this is how he gets his source material. Defoe is part of a spy network for the king (a 1600s version of MI-6?) and one of his covers is as a writer.
Rescued from a deserted Caribbean island, 17-year-old Robinson Crusoe and his female friend, Friday, find themselves in late 1600s London, a bustling city that proves as treacherous for them to navigate as the remote island they just left behind. Thanks to their honed survival skills, Crusoe and Friday are recruited by a young writer named Daniel Defoe to work as agents for Segment W, a covert spy group that reports directly to the Crown.
Crusoe, Friday, and Defoe must rescue the Countess of Lichfield from a kidnapping plot. They discover that a mystical and mysterious organization known as the Circle of Thirteen is plotting to destroy Segment W and change the course of history through a royal kidnapping.
With an illustrious cast of historical characters including King Charles II and Sir Isaac Newton, Dawn of Spies is the first installment of a series that thrusts a young Robinson Crusoe into a new world of espionage, intrigue, and peril.
Buy Dawn of Spies at Amazon
The Day That A Ran Away by B.C.R. Fegan
It is a cute early reader book about the alphabet. I mentioned in my post about keeping your kids reading. I sent a free digital copy for review.
Master Jet has forgotten to complete his homework... or has he? Jet's teacher is surprised to find that instead of the alphabet, his page is completely blank. Jet tries to explain that it really isn't his fault. After all, how can he help it, if none of his letters want to stay on the page!
Buy The Day That A Ran Away at Amazon
Caitlin's Song by John A. Heldt
Even though this is a long book (530 pages), it is a quick read. Like all other books I've read by Heldt, it is a light, sweet story. There is a bit more reader anxiety in this book than I've felt with his other stories, which is partly why I read it so quickly - I had to know if they were successful in changing what happens to one of the characters. I received a free copy from the author. Read my review.
Love, courage, and commitment take center stage as the Carsons, a family of time travelers, continue their saga in the great American West. For the Carson children, ages 19 to 29, an unplanned stop in 1962 is a chance to grow. Adam, Greg, and Natalie begin lives with new spouses in Boulder, Colorado, while twins Cody and Caitlin get their first taste of college. All plan to resume the search for their missing parents as soon as they can. For Tim and Caroline Carson, a planned stop in the rendezvous year of 1972 is a nightmare. While reading about their children's lives in 1962, they learn that one has crossed paths with a killer. Faced with limited options, they race back to the past to reroute history and prevent a series of murders. In CAITLIN'S SONG, the fourth novel in the Carson Chronicles series, members of a modern family find romance, adventure, and terror as they seek answers and each other in four memorable eras of American history.
Buy Caitlin's Song at Amazon
The Professor by Robert Bailey
I've gone back and forth about listening to this audiobook, but nothing else was catching my eye so I decided to give it a try. It turned out to be a really great legal thriller. The audiobook was well done and the story was easy to follow. I liked the main characters of the professor, the lawyer, and the law student and would like to continue with this series. While I listened to the audiobook, the print edition has 428 pages, making it the 3rd longest book I read this month. It is a free ebook with Audible narration for Amazon Prime members.
Law professor Thomas Jackson McMurtrie literally wrote the book on evidence in the state of Alabama. But when a power-hungry colleague uses a recent run-in between McMurtrie and headstrong student Rick Drake to end his career, he is left unsure what to do next.
Meanwhile, a devastating trucking accident in Henshaw, Alabama, leaves a young family dead. Drake, now a fledgling lawyer, takes the case against the freight carrier and soon begins to uncover the truth behind the tragedy that is buried in a tangled web of arson, bribery, and greed. On the eve of the trial and with his case unraveling in the midst of a dangerous cover-up that threatens to silence his star witnesses, Drake realizes that only his estranged mentor, Professor McMurtrie, can help him now.
With everything to lose and only justice to gain, will McMurtrie and Drake overcome bad blood to defeat a ruthless adversary? Can the Professor turn back the clock and recover all that he's lost?
Buy The Professor at Amazon
Honeymoon with Death by Vivian Conroy
I read the first book in this new series by Conroy back in February and she mentioned to me that the second book (this one) would be coming out this summer. Every few weeks I would check NetGalley to see if it was available and requested it as soon as I saw it posted. The retired Scotland Yard detective is back. He's hoping for a vacation in the Greek Isle (since his retirement to the French Riviera, the setting of book 1, was none too restful). He's barely off the ferry when he gets wrapped up in another Agatha Christie-worthy caper. I readily pushed it to the top of my June reads list when I saw on Goodreads the publication date of June 24. Unfortunately for you, the real release date for this delightful cozy mystery is July 1. Read my review.
After a whirlwind romance and dream wedding, the new Mrs Ramsforth is whisked away to an idyllic Greek island by her adoring husband. But as soon as they arrive at their luxurious hotel overlooking the azure sea, Damaris is struck by the feeling she's been here before...
Puzzling over the familiarity, Damaris' honeymoon goes from unsettling to a complete nightmare when she finds herself standing over a dead body, unable to explain how she got there.
Now only one man can save her - fellow holidaymaker and former Scotland Yard inspector Jasper. But even he starts to doubt Damaris' innocence when he discovers that it's not her first time embroiled in a murder case.
Buy Honeymoon with Death at Amazon
The Orphan Daughter by Cari Noga
This is another Prime reading ebook with Audible narration that I've had my eye on, but I wasn't sure if I was in the mood for the family drama it promised. After passing over a few times in lieu of other stories, I finally felt in the mood for the angst. I kept getting annoyed with Jane's self-centeredness, and I had to keep reminding myself that she hadn't properly dealt with her own grief and trauma. That didn't keep me from screaming in my head - step up and be the adult this hurting child needs. Lucy's angst was more understandable and not nearly as annoying.
At forty-five, Jane McArdle has experienced her share of life's twists and turns. Yet she's shaken by the sudden death of her estranged half sister and the news that she's now the guardian of her orphaned niece, Lucy.
Still nurturing unresolved grief from a marriage bookended by loss, as well as her guilt over her adult son's imperfect upbringing, Jane is her own worst enemy, content to focus on her small Michigan farm. Now, confronted with a traumatized eleven-year-old, the prickly empty nester is thrust into motherhood again, unsure she'll do any better this time.
City girl Lucy is bewildered by aloof Aunt Jane and a new life in rural Michigan. The debilitating phobia Lucy has developed since her parents' deaths keeps her stuck in this place that's nothing like home. She secretly plots to run away to live with other relatives. Jane and Lucy must decide if they'll both endure yet another loss—each other—or if their paths will lead them to forge a new family together.
Buy The Orphan Daughter at Amazon
Fortune's Daughters by Consuelo Saah Baehr
This was an okay audiobook. The premise was promising, but I just didn't connect with the story. I felt like I kept waiting for something to happen, for the story to really begin. That is probably why I felt the book ended abruptly, though all the plot threads were tied up. There's a lot of characters introduced in the beginning and I had trouble keeping them straight. This is a free ebook with Audible narration for Amazon Prime members.
Faith Simpson is born at the dawn of the twentieth century into a dynasty that gives her everything she will ever need—except her parents' love and attention. Often misunderstood, she trusts few as she grows up on the family's manicured Long Island estate. Just twenty-nine miles away, on lower Manhattan's dirty, crowded streets, Hope Lee's world is one of poverty and desperation. The scrappy child of hard-working Irish and Chinese immigrants has learned to fend for herself, until a terrible disaster thrusts her into a strange, new world of privilege.
When she meets Faith, Hope has faced enough loss to last a lifetime, and, like Faith, she has built an emotional wall to survive. Compelled by the tragic bonds of very different childhoods, they soon forge a strong alliance. But when Faith's father chooses Hope as his protégé, and, worse yet, both Faith and Hope fall in love with the same man, resentment and betrayal threaten their bond. Caught in the tumult of World War I, Wall Street, union fights, and changing women's roles, these two extraordinary women find that true fortune can't be bought or sold.
Buy Fortune's Daughters at Amazon
Prairie Fires: The American Dreams of Laura Ingalls Wilder by Caroline Fraser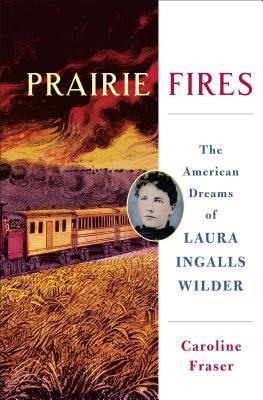 This book has been sitting on my review shelf for a year and a half. I was excited to read it, but it came right after the holidays and at 640 pages it was difficult to find the time to read it. Earlier this year, the television show Little House on the Prairie came to Amazon Prime video which I promptly started to binge watch. It renewed my interest in all things Laura Ingalls Wilder and I made a point to make Prairie Fires a priority. Once I got through my new release ARCs for the month, I started it. I really enjoyed it. I can't remember the last time I read a biography and I was afraid I would get bored. But Fraser switches between focusing on Wilder's life and the larger scheme of the world Wilder lived through. She touches on politics, climate, agriculture, economics, literature, and general American history of the period and ties it all to Laura's reactions and worldview. Read my review.
Millions of readers of Little House on the Prairie believe they know Laura Ingalls—the pioneer girl who survived blizzards and near-starvation on the Great Plains, and the woman who wrote the famous autobiographical books. But the true saga of her life has never been fully told. Now, drawing on unpublished manuscripts, letters, diaries, and land and financial records, Caroline Fraser—the editor of the Library of America edition of the Little House series—masterfully fills in the gaps in Wilder's biography. Revealing the grown-up story behind the most influential childhood epic of pioneer life, she also chronicles Wilder's tumultuous relationship with her journalist daughter, Rose Wilder Lane, setting the record straight regarding charges of ghostwriting that have swirled around the books.
The Little House books, for all the hardships they describe, are paeans to the pioneer spirit, portraying it as triumphant against all odds. But Wilder's real life was harder and grittier than that, a story of relentless struggle, rootlessness, and poverty. It was only in her sixties, after losing nearly everything in the Great Depression, that she turned to children's books, recasting her hardscrabble childhood as a celebratory vision of homesteading—and achieving fame and fortune in the process, in one of the most astonishing rags-to-riches episodes in American letters.
Spanning nearly a century of epochal change, from the Indian Wars to the Dust Bowl, Wilder's dramatic life provides a unique perspective on American history and our national mythology of self-reliance. With fresh insights and new discoveries, Prairie Fires reveals the complex woman whose classic stories grip us to this day.
Buy Prairie Fires at Amazon
Surfside Sisters by Nancy Thayer
This is a wonderful summer read. Thayer's writing is compelling and her love of the island shines through the words. Visiting Nantucket is on my bucket list because of her books. My review will post on July 1.
Keely Green always dreamed of leaving the beautiful shores of Nantucket to become a writer. Now she's a bestselling novelist living in New York City, attending glamorous cocktail parties and mingling with the literary elite. Keely is also dating a charming, perfectly fine pediatric surgeon who looks good on paper but isn't "the one." She just can't bear to break it off—until he declares his desire to settle down. Then Keely's editor rejects her latest novel. With her personal and professional lives suddenly in shambles, Keely longs for the soothing island way of life.
Growing up, Keely and her best friend, Isabelle, were inseparable. Nothing could come between them—except, as it turned out, Keely's high school boyfriend, Tommy. Returning home would mean facing Isabelle's bitter betrayal and seeing for herself the family Tommy and Isabelle have created, the life that might have been Keely's.
But when Keely's mother falls into a deep depression, Keely knows what she must do, even though she is reluctant to face her estranged friend. And encountering Isabelle's older brother, Sebastian—Keely's longtime crush—only complicates things.
In one incredible summer, Keely must confront the mistakes of the past if she has any chance of finding true happiness in the place she will always call home. Nancy Thayer shines yet again in this uplifting tale of forgiveness and self-discovery.
Buy Surfside Sisters at Amazon
I'm currently listening to
The Practice House
by Laura McNeal. I'm about halfway through it.
What has June been like for you? If you've done your own weekly or monthly wrap-up post, please leave a link in your comment below and I will try to stop by soon.
Donna Huber is an avid reader and natural encourager. She is the founder of Girl Who Reads and the author of how-to marketing book Secrets to a Successful Blog Tour.
Get even more book news in your inbox, sign up today! Girl Who Reads is an Amazon advertising affiliate; a small commission is earned when purchases are made at Amazon using any Amazon links on this site. Thank you for supporting Girl Who Reads.