In the US, Mother's Day is coming up this Sunday and maybe you are still trying to find the perfect gift. If your mom shares your passion for reading then a book might be just the thing. Here are some of the best sellers in Women's Fiction.
After years of designing her family's grand wineries (and a few not-so-grand closets on the side), Abby DeLuca knows she has what it takes to be an award-winning interior designer. Newly single, Abby lands the career opportunity of a lifetime and refuses to let anything—or anyone—stand in her way. And that includes St. Helena's most irresistible contractor, the man who makes her melt every time she sees him—even though he shattered her heart years ago.
A former NFL star, Jack "Hard Hammer" Tanner now spends his days doing contract work for the beautiful women of St. Helena—and his nights doing off-the-books projects in their bedrooms. Yet the more time the sexy tool-belt-for-hire spends with Abby, the more he longs to fix her broken heart. Soon, rekindled sparks fly. But when Jack's dream job comes calling, he faces a tough choice: building in the big leagues, or building forever with his first love.
Buy From the Moment We Met at Amazon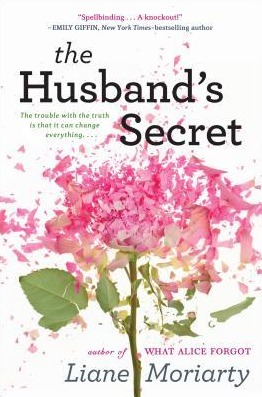 At the heart of The Husband's Secret is a letter that's not meant to be read
My darling Cecilia, if you're reading this, then I've died...
Imagine that your husband wrote you a letter, to be opened after his death. Imagine, too, that the letter contains his deepest, darkest secret—something with the potential to destroy not just the life you built together, but the lives of others as well. Imagine, then, that you stumble across that letter while your husband is still very much alive. . . .
Cecilia Fitzpatrick has achieved it all—she's an incredibly successful businesswoman, a pillar of her small community, and a devoted wife and mother. Her life is as orderly and spotless as her home. But that letter is about to change everything, and not just for her: Rachel and Tess barely know Cecilia—or each other—but they too are about to feel the earth-shattering repercussions of her husband's secret.
Acclaimed author Liane Moriarty has written a gripping, thought-provoking novel about how well it is really possible to know our spouses—and, ultimately, ourselves.
Buy The Husband's Secret at Amazon
From #1 New York Times-bestselling author Nora Roberts comes a novel of a woman who needs nothing, a man who sees everything, and the web of deceit, greed, and danger that brings them together—and could tear them apart . . .
When professional house-sitter Lila Emerson witnesses a murder/suicide from her current apartment-sitting job, life as she knows it takes a dramatic turn. Suddenly, the woman with no permanent ties finds herself almost wishing for one. . . .
Artist Ashton Archer knows his brother isn't capable of violence—against himself or others. He recruits Lila, the only eyewitness, to help him uncover what happened. Ash longs to paint her as intensely as he hungers to touch her. But their investigation draws them into a rarified circle where priceless antiques are bought, sold, gambled away, and stolen, where what you possess is who you are, and where what you desire becomes a deadly obsession. . . .
The author of Bird in Hand and The Way Life Should Be delivers her most ambitious and powerful novel to date: a captivating story of two very different women who build an unexpected friendship: a 91-year-old woman with a hidden past as an orphan-train rider and the teenage girl whose own troubled adolescence leads her to seek answers to questions no one has ever thought to ask.
Nearly eighteen, Molly Ayer knows she has one last chance. Just months from "aging out" of the child welfare system, and close to being kicked out of her foster home, a community service position helping an elderly woman clean out her home is the only thing keeping her out of juvie and worse.
Vivian Daly has lived a quiet life on the coast of Maine. But in her attic, hidden in trunks, are vestiges of a turbulent past. As she helps Vivian sort through her possessions and memories, Molly discovers that she and Vivian aren't as different as they seem to be. A young Irish immigrant orphaned in New York City, Vivian was put on a train to the Midwest with hundreds of other children whose destinies would be determined by luck and chance.
The closer Molly grows to Vivian, the more she discovers parallels to her own life. A Penobscot Indian, she, too, is an outsider being raised by strangers, and she, too, has unanswered questions about the past. As her emotional barriers begin to crumble, Molly discovers that she has the power to help Vivian find answers to mysteries that have haunted her for her entire life - answers that will ultimately free them both.
Rich in detail and epic in scope, Orphan Train is a powerful novel of upheaval and resilience, of second chances, of unexpected friendship, and of the secrets we carry that keep us from finding out who we are.
Andres suspects his wife has left him—again. Then he learns that the unthinkable has happened: she's been kidnapped. Too much time and too many secrets have come between Andres and Marabela, but now that she's gone, he'll do anything to get her back. Or will he?
As Marabela slips farther away, Andres must decide whether they still have something worth fighting for, and exactly what he'll give up to bring her home. And unfortunately, the decision isn't entirely up to him, or up to the private mediator who moves into the family home to negotiate with the terrorists holding Marabela. Andres struggles to maintain the illusion of control while simultaneously scrambling to collect his wife's ransom, tending to the needs of his two young children, and reconnecting with an old friend who may hold the key to his past and his wife's future.
Set in Lima, Peru, in a time of civil and political unrest, this evocative page-turner is a perfect marriage of domestic drama and suspense.
Girl Who Reads is an Amazon advertising affiliate; a small fee is earned when purchases are made at Amazon through the links above.