by Donna Huber
Currently Reading:
Could you handle life in the spotlight?
Julia Alexander is a quiet girl from a small town. Content to spend her days with her small group of friends and a pile of books, Julia thinks her future is set. When she unexpectedly meets Chase, a fellow college student and budding musician, she is unaware of just how drastically things are about to change.
Suddenly thrown into the limelight, her life is no longer her own. Relentlessly followed by the paparazzi, Julia is forced to make tough decisions about fame, love, family, and relationships. But just how much will Julia have to sacrifice to become invisible...
Buy Chasing Invisible at Amazon
Whether you want to start eating healthy, switch careers, or improve a relationship, Brett Blumenthal's A Whole New You will inspire you to take control of your life and to live at your very best.
Drawing on her own experience with personal reinvention, her professional work as a change management consultant, and her studies in the fields of psychology and human behavior, Blumenthal breaks down how to successfully reinvent your life in six steps. Each stage is comprehensively explained, with action items, tools, and resources to enable you to follow through and effect change in your life. In A Whole New You, Blumenthal will lead you through:
• The three times in your life when you're most ready for change, including during life transitions and after trauma
• The symptoms — rational, emotional, and physical - that indicate you need change
• How to stay motivated by making an investment in your success
• Finding ways to capitalize on your strengths, making change easier
A Whole New You is for anyone who wants to make a change but is not sure where to begin, or for those who've tried to make a life improvement in the past but failed. With the right tools and knowledge, you'll be able to reach your goals and live not just a good life or a better life — but your best life.
Just Finished:
One choice can transform you—or it can destroy you. But every choice has consequences, and as unrest surges in the factions all around her, Tris Prior must continue trying to save those she loves—and herself—while grappling with haunting questions of grief and forgiveness, identity and loyalty, politics and love.
Tris's initiation day should have been marked by celebration and victory with her chosen faction; instead, the day ended with unspeakable horrors. War now looms as conflict between the factions and their ideologies grows. And in times of war, sides must be chosen, secrets will emerge, and choices will become even more irrevocable—and even more powerful. Transformed by her own decisions but also by haunting grief and guilt, radical new discoveries, and shifting relationships, Tris must fully embrace her Divergence, even if she does not know what she may lose by doing so.
New York Times bestselling author Veronica Roth's much-anticipated second installment of the dystopian Divergent series is another intoxicating thrill ride of a story, rich with hallmark twists, heartbreaks, romance, and powerful insights about human nature.
Performed by Emma Galvin
Up Next:
I have holds at the library for a couple of books and I hope they come in soon.
One choice will define you.
What if your whole world was a lie?
What if a single revelation—like a single choice—changed everything?
What if love and loyalty made you do things you never expected?
The faction-based society that Tris Prior once believed in is shattered—fractured by violence and power struggles and scarred by loss and betrayal. So when offered a chance to explore the world past the limits she's known, Tris is ready. Perhaps beyond the fence, she and Tobias will find a simple new life together, free from complicated lies, tangled loyalties, and painful memories.
But Tris's new reality is even more alarming than the one she left behind. Old discoveries are quickly rendered meaningless. Explosive new truths change the hearts of those she loves. And once again, Tris must battle to comprehend the complexities of human nature—and of herself—while facing impossible choices about courage, allegiance, sacrifice, and love.
Told from a riveting dual perspective, Allegiant, by #1 New York Times best-selling author Veronica Roth, brings the Divergent series to a powerful conclusion while revealing the secrets of the dystopian world that has captivated millions of readers in Divergent and Insurgent.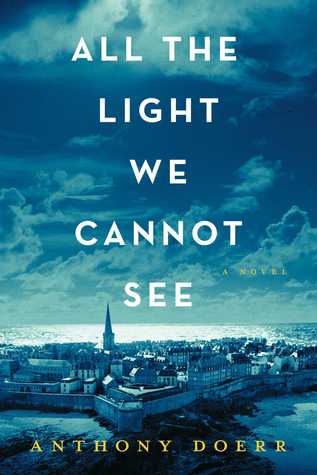 From the highly acclaimed, multiple award-winning Anthony Doerr, a stunningly ambitious and beautiful novel about a blind French girl and a German boy whose paths collide in occupied France as both try to survive the devastation of World War II.
Marie Laure lives with her father in Paris within walking distance of the Museum of Natural History where he works as the master of the locks (there are thousands of locks in the museum). When she is six, she goes blind, and her father builds her a model of their neighborhood, every house, every manhole, so she can memorize it with her fingers and navigate the real streets with her feet and cane. When the Germans occupy Paris, father and daughter flee to Saint-Malo on the Brittany coast, where Marie-Laure's agoraphobic great uncle lives in a tall, narrow house by the sea wall.
In another world in Germany, an orphan boy, Werner, grows up with his younger sister, Jutta, both enchanted by a crude radio Werner finds. He becomes a master at building and fixing radios, a talent that wins him a place at an elite and brutal military academy and, ultimately, makes him a highly specialized tracker of the Resistance. Werner travels through the heart of Hitler Youth to the far-flung outskirts of Russia, and finally into Saint-Malo, where his path converges with Marie-Laure.
Doerr's gorgeous combination of soaring imagination with observation is electric. Deftly interweaving the lives of Marie-Laure and Werner, Doerr illuminates the ways, against all odds, people try to be good to one another. Ten years in the writing, All the Light We Cannot See is his most ambitious and dazzling work.
I have this on audio book right now but I'm having trouble following the story line so I'm going to read it myself.
Buy All the Light We Cannot See at Amazon
Girl Who Reads is an Amazon advertising affiliate; a small fee is earned when purchases are made at Amazon through the above links.