The end of the year is quickly approaching. Pick up the last new releases of 2015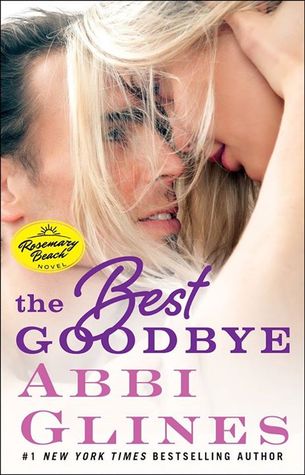 From #1 New York Times bestselling author Abbi Glines comes the next sizzling novel in the Rosemary Beach series, featuring well-known playboy and Blaire's half brother, Captain.
The look on Rose's face had screamed that she was hiding something. Hell, she'd practically run away from me. There was something to that. I knew there was...
After ten years in the employ of a mysterious crime boss, River "Captain" Kipling is ready to leave his sordid past—and his cover occupation as an upscale restaurateur—behind him. The only thing standing in the way of his "retirement" is his commitment to launch a new restaurant in the resort town of Rosemary Beach. With his sister, Blaire, nearby, Captain can delay his dream of running a humble bar on the waterfront, but the unwanted attentions of his head server, Elle, have him itching to get out.
Until he notices Rose Henderson, the new server at the restaurant. All he knows about the pretty redhead with the cute glasses is that she's a hardworking single mom from Oklahoma. But there's something overly familiar about her laugh...something strange about the way she looks at Captain...
Available December 1
Buy The Best Goodbye at Amazon
Splinter the Silence
is a novel centered on the mysterious deaths of several women who were the victims of vicious cyberbullying.
Is it violence if it's virtual? The outspoken women targeted by the increasingly cruel internet trolls and bullies would probably say so. For some of them, the torrents of bile and vicious threats prove too much. They begin to silence themselves in a series of high-profile suicides.
Or do they? Tony Hill isn't convinced. But he's the only one. Former cop Carol Jordan is too busy messing up her life to care. Until she gets an unexpected second chance. Now it's game on, and the stakes have never been higher.
Available December 1
Buy Splinter the Silence at Amazon
When Russian President Valeri Volodin's ambitions are foiled in Dagestan, he faces a difficult choice. The oligarchs who support him expect a constant flow of graft, but with energy prices cratering, the Russian economy sputters to a virtual halt. Unable to grow the Russian market at home, his hold on power relies on expansion abroad—a plan that has been thwarted by the United States in the past.
But this time Volodin has determined that an indirect approach is the best. A floating natural gas facility in Lithuania is blown up. A Venezuelan prosecutor is assassinated. A devastating attack on a Russian troop train kills dozens. A chaotic world is the best camouflage for a series of seemingly unrelated attacks.
Only one man recognizes an ominous pattern in the reports of terror from around the globe. U.S. President Jack Ryan sees a guiding hand in the worldwide chaos, but before he can act he needs proof.
While his intelligence agencies race to uncover the truth behind the attacks, the President struggles to unite a fractious and distrustful coalition of Western nations against the schemes of the Russian dictator.
With five thousand Russian troops poised to invade a NATO nation, can Jack Ryan move swiftly enough to stop Volodin's grand plan of global conflict and conquest? Or will he succeed in changing the balance of world power forever?
Available December 1
Buy Commander in Chief at Amazon
It's not about the destination, it's about the journey...
With her trusty baton and six insanely organized clipboards, drum major Liza Sanders is about to take Destiny by storm—the boat, that is. When Liza discovered that her beloved band was losing funding, she found Destiny, a luxury cruise ship complete with pools, midnight chocolate buffets, and a $25,000 spring break talent show prize.
Liza can't imagine senior year without the band, and nothing will distract her from achieving victory. She's therefore not interested when her old camp crush, Lenny, shows up on board, looking shockingly hipster-hot. And she's especially not interested in Russ, the probably-as-dumb-as-he-is-cute prankster jock whose ex, Demi, happens be Liza's ex–best friend and leader of the Athenas, a show choir that's the band's greatest competition.
But it's not going to be smooth sailing. After the Destiny breaks down, all of Liza's best-laid plans start to go awry. Liza likes to think of herself as an expert at almost everything, but when it comes to love, she's about to find herself lost at sea.
Available December 8
Buy The Trouble with Destiny at Amazon
THE MUST-READ THRILLER OF THE YEAR: Featuring the most exhilarating heroine in memory and a sophisticated, endlessly ingenious, brilliantly paced narrative through dark territory and deep mystery, this is a new milestone in literary suspense and a major new breakout book from the long acclaimed master.
At twenty-two, Bibi Blair's doctors tell her that she's dying. Two days later, she's impossibly cured. Fierce, funny, dauntless, she becomes obsessed with the idea that she was spared because she is meant to save someone else. Someone named Ashley Bell. This proves to be a dangerous idea. Searching for Ashley Bell, ricocheting through a southern California landscape that proves strange and malevolent in the extreme, Bibi is plunged into a world of crime and conspiracy, following a trail of mysteries that become more sinister and tangled with every twisting turn.
Unprecedented in scope, infinite in heart, Ashley Bell is a magnificent achievement that will capture lovers of dark psychological suspense, literary thrillers, and modern classics of mystery and adventure. Beautifully written, at once lyrical and as fast as a bullet, here is the most irresistible novel of the decade.
Available December 8
Alexis Bass's heartbreakingly beautiful second novel is a tale of love, loss, and learning to forgive, perfect for fans of Gayle Forman and of Robyn Schneider's The Beginning of Everything.
A year and a half ago, Amanda Tart's brother got behind the wheel drunk and killed his best friend. Today, he's coming home from prison.
Amanda's been the one living with the fallout, made worse by her brother's recent unapologetic TV interview. People think he's a monster. Still, she loves him. It's her dark secret, until she starts getting close to Henry again--whose sister is paralyzed from the accident.
A year and a half ago, her brother destroyed his life. Now Amanda has to decide if she'll let his choice destroy hers.
Available December 29
Buy What's Broken Between Us at Amazon
When Emily Wayborn goes home to visit her mom while on hiatus from her hit TV show, she receives a voicemail from her former best friend, Amber. Though the two were once notorious party girls, they haven't spoken in years. Although the message might sound benign to anyone else, Amber uses a safe word that Emily recognizes, a word they always used to get out of sticky situations during their wild days. And what's more chilling than the voicemail: it turns out that Amber has gone missing.
Determined to track down her friend, Emily follows a chain of clues that lead her to the enigmatic billionaire Reeve Sallis, a hotelier known for his shady dealings and play boy reputation. Now, in order to find Amber, Emily must seduce Reeve to learn his secrets and discover the whereabouts of her friend. But as she finds herself more entangled with him, she finds she's drawn to Reeve for more than just his connection to Amber, despite her growing fear that he may be the enemy. When she's forced to choose where her loyalty lies, how will she decide between saving Amber and saving her heart?
Available December 29
Girl Who Reads is an Amazon advertising affiliate; a small commission is earned when purchases are made at Amazon using any Amazon links on this site. Thank you for supporting Girl Who Reads.