by Donna Huber
We are now in the second week of January. Have you found time for reading? I will admit I've been a bit slow getting back into the reading habit after the holidays. In my defense though I've been recovery from a sternoclavicular joint sprain and don't have full use of my right arm. But I did finish an audio book this past week!
Finished:
Reading:
Ever thought about recycling your Ex?
Best friends Catherine, Rachel & Sarah are fun, smart, successful and single - just like millions of women with a low tolerance for idiocy in their dates.
Mr. Right hasn't turned up yet, and Mr. Right-Now isn't worth booking a wax appointment for. So when Catherine, London's finest matchmaker, gets Rachel and Sarah to join her dating site where they can recycle their ex-boyfriends in exchange for an upgrade, they soon realize that anything could happen . . .
Three best friends, proving that sometimes it really isn't you... it's him.
Buy Match Me if You Can at Amazon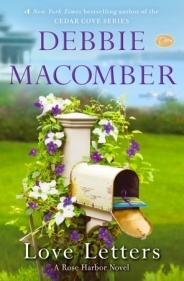 In this enchanting novel set at Cedar Cove's cozy Rose Harbor Inn, Debbie Macomber celebrates the power of love—and a well-timed love letter—to inspire hope and mend a broken heart.
Summer is a busy season at the inn, so proprietor Jo Marie Rose and handyman Mark Taylor have spent a lot of time together keeping the property running. Despite some folks' good-natured claims to the contrary, Jo Marie insists that Mark is only a friend. However, she seems to be thinking about this particular friend a great deal lately. Jo Marie knows surprisingly little about Mark's life, due in no small part to his refusal to discuss it. She's determined to learn more about his past, but first she must face her own—and welcome three visitors who, like her, are setting out on new paths.
Twenty-three-year-old Ellie Reynolds is taking a leap of faith. She's come to Cedar Cove to meet Tom, a man she's been corresponding with for months, and with whom she might even be falling in love. Ellie's overprotective mother disapproves of her trip, but Ellie is determined to spread her wings.
Maggie and Roy Porter are next to arrive at the inn. They are taking their first vacation alone since their children were born. In the wake of past mistakes, they hope to rekindle the spark in their marriage—and to win back each other's trust. But Maggie must make one last confession that could forever tear them apart.
For each of these characters, it will ultimately be a moment when someone wore their heart on their sleeve—and took pen to paper—that makes all the difference. Debbie Macomber's moving novel reveals the courage it takes to be vulnerable, accepting, and open to love.
Buy Love Letters at Amazon
Girl Who Reads is an Amazon advertising affiliate; a small commission is earned when purchases are made at Amazon using any Amazon links on this site. Thank you for supporting Girl Who Reads.