by Claire Rees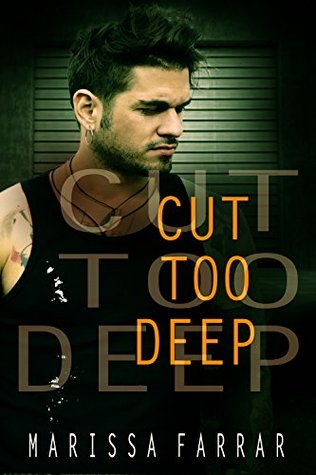 Cut To Deep
is a romantic suspense novel by Marissa Farrar.
On the run from a very abusive ex boyfriend, Jenna, never stays in one place for too long; terrified that he will catch up to her. Until her car breaks down and she is forced to stay at a small out of the way town for longer than she is comfortable with.
The thing that makes it easier is Ryker, the owner of the garage fixing her car, who is very hot and sexy. Ryker seems to really like Jenna and she pushes him away as much as she can, knowing that she won't be able to stay in town for very long. She will not allow herself to get attached to anyone or anything.
Until her past catches up to her and she is forced to fight for not only her life but the ones she has come to care about.
Cut Too Deep
kept me on the edge of my seat all of the way through. The relationship between the two main characters seems destined to fail, but somehow over the space of a few days they become very closely connected, so that nothing can tear them apart.
Then enters the crazy ex, I actually felt my heart start to race when he got her. The writing was so well done that I was scared for the character, and found myself rooting for her to get away and back to safety.
Recommended to all who love a book filled with love and romance but also with the darker side of obsession and stalking.
Book info:
available formats: audio, ebook, print (206 pages)
published: March 2015 by Warwick House Press
ISBN13: 978-1511961035
genres: romance, suspense
Girl Who Reads is an Amazon advertising affiliate; a small commission is earned when purchases are made at Amazon using any Amazon links on this site. Thank you for supporting Girl Who Reads.