If you are looking for your next book boyfriend, perhaps one of these novels will be your perfect match
.
I'm a rescuer. It's in my DNA.
Stray dogs. Stray women.
But this one doesn't need rescuing.
She needs something real, but I never keep the ones I rescue.
I could let her go… but I can't watch her walk away.
I'm an ex-Navy SEAL, and I never give up on a mission.
Bait & Switch
is Book 1 in the new contemporary romance series Alphas Undone, which will each feature a new couple. This is a standalone full-length novel.
Maverick "the Avenger" Cage wants to rise to the top and become a legend in the ring. Though he keeps his identity well guarded, he's known on the fighting circuit as the new kid with a chip on his shoulder and a tattoo on his back that marks him as trouble. He's got a personal score to settle with the Underground's one and only Remington "Riptide" Tate.
As Mav trains, he meets a young girl—the only other new person in the town--and sparks fly. When things get heated between them, he finds out she's none other than Reese Dumas, the cousin of Remington Tate's wife. A girl who's supposed to root against him and a girl he's supposed to stay away from.
But Maverick fights for the woman in his heart, and the monsters in his blood. The world's eyes are on them and the victor will go down in history as the ultimate fighting champion; the ultimate LEGEND.
Ten years ago, Duke King knew that getting involved with Grace Truman would only bring trouble into his already hard life. After all, the son of the town drunk has no business falling for the judge's daughter…a passion that led to disaster and ended with Duke serving a ten year prison sentence. Duke never wanted to return to Destiny, especially now that he's built a multimillion dollar custom car empire with his brothers. But when his sick aunt calls him home, he must face his past and discover a secret that instantly changes his life.
Grace never thought she would see Duke again, especially after years of silence. But when Duke comes storming back into her life, looking hotter than ever, and determined to get to know the son he never knew he had, she realizes that maybe she'd been wrong about him so many years ago. So Grace decides to make Duke a bet. If he can stay in the house with them for the next thirty days and prove he'll be a good father, she'll agree to letting him be part of his son's life. If not, he'd better be prepared for a fight.
Going from single guy to family man isn't going to be easy for Duke, especially with the still sexy, now fiery, Grace clouding his every thought. Can Duke be the man he never thought he could be or will his old bad boy ways be too much to conquer?
Buy Betting the Bad Boy at Amazon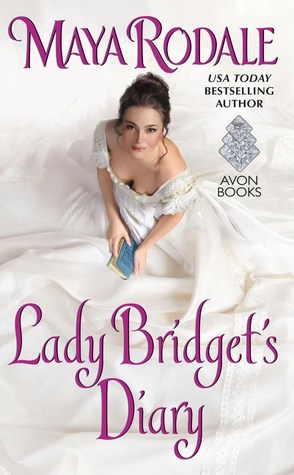 In the first novel of Maya Rodale's stunning new series, an American heiress must learn to navigate London society and an infuriatingly irresistible rake . . .
Lord Darcy is the quintessential Englishman: wealthy, titled, impossibly proper, and horrified that a pack of Americans has inherited one of England's most respected dukedoms. But his manners, his infamous self-restraint, and his better judgment fly out the window when he finds himself with the maddening American girl next door.
Lady Bridget Cavendish has grand—but thwarted—plans to become a Perfect Lady and take the haute ton by storm. In her diary, Bridget records her disastrous attempts to assimilate into London high society, her adoration of the handsome rogue next door, her disdain for the Dreadful Lord Darcy, and some truly scandalous secrets that could ruin them all.
It was loathing at first sight for Lady Bridget and Lord Darcy. But their paths keep crossing . . . and somehow involve kissing. When Lady Bridget's diary goes missing, both Darcy and Bridget must decide what matters most of all—a sterling reputation or a perfectly imperfect love.
Buy Lady Bridget's Diary at Amazon
The latest entry in the sizzling paranormal vampire series featuring the Argeneau family - no one does wickedly funny and irresistibly steamy like Lynsay Sands!
Dante Notte has heard it said that love hurts. He just wasn't expecting it to run him over in an RV. Still, a punctured lung and broken ribs are nothing compared to the full-body shock he feels whenever he's near the vehicle's driver, Mary Winslow. He needs to keep her safe from their pursuers while he rescues his brother. Most challenging of all, he needs to claim this smart, stubborn woman as his life mate.
The naked, injured, insanely gorgeous younger man who clambered into her RV insists they belong together. If Mary wasn't feeling their incredible connection in every inch of her being, she wouldn't believe it. But now that the men who took Dante's twin are after her too, trusting her gut means risking her life for an immortal who's the very definition of a perfect stranger.
Get even more book news in your inbox by signing up for our newsletter: http://eepurl.com/mHTVL. Girl Who Reads is an Amazon advertising affiliate; a small commission is earned when purchases are made at Amazon using any Amazon links on this site. Thank you for supporting Girl Who Reads.