by Donna Huber
It is no secret that I come from a reading family. So of course, there were a few books under our Christmas tree this year, mostly for my niece and nephew, but I got one surprise too. What books did you get or give this year?
For my niece: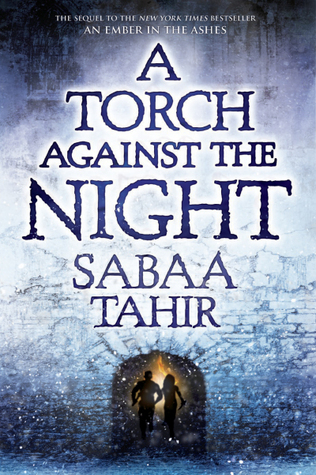 A Torch Against the Night
by Sabaa Tahir is the second book in the An Ember in the Ashes series that my niece recently discovered. I purchased it back in September and I was a little worried that she might have already picked it up for herself when we got closer to Christmas and I asked her what books she wanted. Then on our shopping day, she sees the display and she asks me if I've read the series. I haven't and I asked her if she had the second book. How glad I was when she said no.
Elias and Laia are running for their lives. After the events of the Fourth Trial, Martial soldiers hunt the two fugitives as they flee the city of Serra and undertake a perilous journey through the heart of the Empire.
Laia is determined to break into Kauf—the Empire's most secure and dangerous prison—to save her brother, who is the key to the Scholars' survival. And Elias is determined to help Laia succeed, even if it means giving up his last chance at freedom.
But dark forces, human and otherworldly, work against Laia and Elias. The pair must fight every step of the way to outsmart their enemies: the bloodthirsty Emperor Marcus, the merciless Commandant, the sadistic Warden of Kauf, and, most heartbreaking of all, Helene—Elias's former friend and the Empire's newest Blood Shrike.
Bound to Marcus's will, Helene faces a torturous mission of her own—one that might destroy her: find the traitor Elias Veturius and the Scholar slave who helped him escape…and kill them both.
~cover and description from Goodreads.com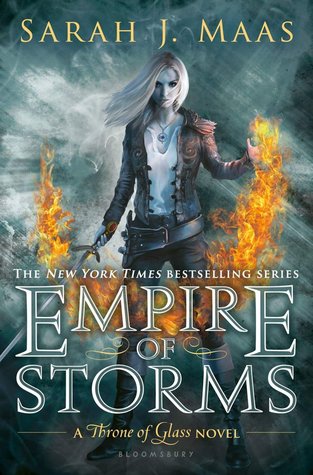 My niece absolutely loves The Throne of Glass series by Sarah J, Maas. I knew she was eagerly awaiting the release of book five in the series -
Empire of Storms.
This one I knew she hadn't gotten because in our texts about books that she might want for Christmas she was quick to ask for this title again. She was absolutely thrilled when she opened the box.
The long path to the throne has only just begun for Aelin Galathynius. Loyalties have been broken and bought, friends have been lost and gained, and those who possess magic find themselves at odds with those don't.
As the kingdoms of Erilea fracture around her, enemies must become allies if Aelin is to keep those she loves from falling to the dark forces poised to claim her world. With war looming on all horizons, the only chance for salvation lies in a desperate quest that may mark the end of everything Aelin holds dear.
Aelin's journey from assassin to queen has entranced millions across the globe, and this fifth installment will leave fans breathless. Will Aelin succeed in keeping her world from splintering, or will it all come crashing down?
~cover and description from Goodreads.com
The kids are in the teens now and my mom thought they might want to get clothes or something for Christmas so we took a day last week and went shopping (since they live out of state we didn't to worry about getting the wrong size). But wouldn't you know it, my niece really just wanted to go the bookstore. She picked out this
United as One
by Pittacus Lore, which my mom went home and wrapped to put under the tree. What torture that must have been for my niece.
The seventh and final book in the #1 New York Times bestselling I Am Number Four series! With
United as One
, this action-packed series comes to a surprising, breathtaking, and utterly satisfying conclusion. The Garde didn't start this war, but they'll do whatever it takes to end it once and for all. . . .
The Mogadorians have invaded Earth. Their warships loom over our most populated cities, and no country will risk taking them head on. The Garde are all that stand in the way, but they'll need an army of their own to win this fight.
They've teamed up with the US military, but it might not be enough. The Garde need reinforcements, and they've found them in the most unexpected place. Teenagers from across the globe, like John Smith's best friend, Sam, have developed abilities. So John and the others must get to them before the Mogs, because if they don't their enemies will use these gifted teens for their own sinister plan.
But after all the Mogadorians have taken from John—his home, his family, his friends, and the person he loves most—he might not want to put any more lives in danger. He's got nothing left to lose, and he's just discovered he has been given an incredible new Legacy. Now he can turn himself into the ultimate weapon. So will he risk his life to save the world, or will he realize that power in numbers will save us all?
~cover and description from Goodreads.com
For my nephew:
My nephew was a big reader for an early age. Unfortunately, he is at the age where video games are cooler than books, but that didn't keep him from asking for a book this Christmas (even it is on his required reading list for next semester).
The unforgettable novel of a childhood in a sleepy Southern town and the crisis of conscience that rocked it,
To Kill A Mockingbird
became both an instant bestseller and a critical success when it was first published in 1960. It went on to win the Pulitzer Prize in 1961 and was later made into an Academy Award-winning film, also a classic.
Compassionate, dramatic, and deeply moving, T
o Kill A Mockingbird
takes readers to the roots of human behavior - to innocence and experience, kindness and cruelty, love and hatred, humor and pathos. Now with over 18 million copies in print and translated into ten languages, this regional story by a young Alabama woman claims universal appeal. Harper Lee always considered her book to be a simple love story. Today it is regarded as a masterpiece of American literature.
~cover and description from Goodreads.com
For me:
I don't often get books as presents since I receive so many books for review or pick up ebooks when I find a great deal. But on Christmas Eve, I happened to look out the window at the same time as the mail carrier was delivering my mail. And behold! I saw a cardboard box just the size for a book being put in my mailbox (the mailbox was a Christmas present a few years ago, and it is big enough for book deliveries - my previous mailbox was too small, but I wouldn't buy myself a new one making it the perfect gift.). I received
The Beauty of the Fall
by Rich Marcello, which I won at Goodreads, and it was wrapped up in plain paper like a Christmas present.
A technology executive charts a high-risk, unconventional path while grieving the loss of his son.
Dan Underlight, a divorced, workaholic technology executive, suffers lingering grief over the death of his ten-year-old son, Zack. When Dan's longtime friend and boss, Olivia Whitmore, fires Dan from RadioRadio, the company that he helped create, he crashes and isolates himself.
Willow, a poet and domestic violence survivor, helps Dan regain his footing. With her support, Dan ventures on a pilgrimage of sorts, visiting Fortune 500 companies to flesh out a software start-up idea. When Dan returns home with a fully formed vision, he recruits the help of three former RadioRadio colleagues and starts Conversationworks, a company he believes will be at the vanguard of social change.
Guided by Dan's generative leadership, Conversationworks enjoys some early successes, but its existence is soon threatened on multiple fronts. Will Dan survive the ensuing corporate battles and realize the potential of his company? Or will he be defeated by his enemies and consumed by his grief?
~cover and description from Goodreads.com
Donna Huber is an avid reader and natural encourager. She is the founder of Girl Who Reads and the author of how-to marketing book Secrets to a Successful Blog Tour.
Get even more book news in your inbox by signing up for our newsletter: http://eepurl.com/mHTVL. Girl Who Reads is an Amazon advertising affiliate; a small commission is earned when purchases are made at Amazon using any Amazon links on this site. Thank you for supporting Girl Who Reads.