by Donna Huber
This hasn't been the best month for reading as I started preparing to close up the house for winter. My town does Dumpster Days one weekend in October and I take the opportunity to clean out the house. So even though I took a week off from work this month, I've been trying to power through the house cleaning, but I still got in a few books. You can see what I read at the beginning of the month
here
.
Amazon affiliate links are used on this site.
Finished
In audio...
Hollow City
by Ransom Riggs
I think I might have liked this one a little more than book one. Now I have to find time to read book 3, which I won a paperback copy of during Armchair Book Expo.
This sequel to the first novel, Miss Peregrine's Home for Peculiar Children, begins in 1940, immediately after the first book ended.
Having escaped Miss Peregrine's island by the skin of their teeth, Jacob and his new friends must journey to London, the peculiar capital of the world. Along the way, they encounter new allies, a menagerie of peculiar animals, and other unexpected surprises.
Complete with dozens of newly discovered vintage photographs.
Buy Hollow City at Amazon
The Glass Castle
by Jeannette Walls
This was a great memoir. I had it playing while I was sorting through the closets. I'm going to have to look for the movie.
The perennially bestselling, "nothing short of spectacular" (Entertainment Weekly) memoir from one of the world's most gifted storytellers—soon to be a major motion picture starring Oscar winner Brie Larson, Woody Harrelson, and Naomi Watts.
The Glass Castle is a remarkable memoir of resilience and redemption, and a revelatory look into a family at once deeply dysfunctional and uniquely vibrant. When sober, Jeannette's brilliant and charismatic father captured his children's imagination, teaching them physics, geology, and how to embrace life fearlessly. But when he drank, he was dishonest and destructive. Her mother was a free spirit who abhorred the idea of domesticity and didn't want the responsibility of raising a family.
The Walls children learned to take care of themselves. They fed, clothed, and protected one another and eventually found their way to New York. Their parents followed them, choosing to be homeless even as their children prospered.
Buy The Glass Castle at Amazon
In print...
A Discovery of Witches
by Deborah Harkness
I love this series! (though now that I've read through it several times, I'm finding bits that annoy me). There is a television show in the developments and I'm really looking forward to it.
Deep in the stacks of Oxford's Bodleian Library, young scholar Diana Bishop unwittingly calls up a bewitched alchemical manuscript in the course of her research. Descended from an old and distinguished line of witches, Diana wants nothing to do with sorcery, so after a furtive glance and a few notes, she banishes the book to the stacks, but her discovery sets a fantastical underworld stirring, and a horde of daemons, witches, and vampires soon descends upon the library. Diana has stumbled upon a coveted treasure lost for centuries--and she's the only creature who can break its spell.
Buy A Discovery of Witches at Amazon
Shadow of Night
by Deborah Harkness
I thought I could just read A Discovery of Witches and then move on to my review books, but no I had to power through the rest of the series. Good thing I was on vacation so I could binge read late into the night.
Harkness's much-anticipated sequel, Shadow of Night, picks up from A Discovery of Witches' cliffhanger ending. Diana and Matthew time-travel to Elizabethan London and are plunged into a world of spies, magic, and a coterie of Matthew's old friends, the School of Night. As the search for Ashmole 782 deepens and Diana searches for a witch to tutor her in magic, the net of Matthew's past tightens around them, and they embark on a very different—and vastly more dangerous—journey.
Buy Shadow of Night at Amazon
The Book of Life
by Deborah Harkness
I still love this series. I can't wait for the television show. It doesn't have a US network home yet, but I'm hoping PBS picks it up. Masterpiece has picked up a bunch of book-based shows lately.
After traveling through time in Shadow of Night, the second book in Deborah Harkness' enchanting series, historian and witch Diana Bishop and vampire scientist Matthew Clairmont return to the present to face new crises and old enemies. At Matthew's ancestral home at Sept-Tours, they reunite with the cast of characters from A Discovery of Witches—with one significant exception. But the real threat to their future has yet to be revealed, and when it is, the search for Ashmole 782 and its missing pages takes on even more urgency. In the trilogy's final volume, Harkness deepens her themes of power and passion, family and caring, past deeds and their present consequences. In ancestral homes and university laboratories, using ancient knowledge and modern science, from the hills of the Auvergne to the palaces of Venice and beyond, the couple at last learn what the witches discovered so many centuries ago.
Buy The Book of Life at Amazon
A Royal Pain
by Rhys Bowen
I picked up this while at the library for my book club. I'm still enjoying the series even though I'm totally reading it out of order. I'm getting a little annoyed with the repetitiveness and Georgie's whining about having no money. I know it is a pressing issue, but she needs to grow up. And I don't get the whole can't have a job thing. I mean Lady Edith on Downton Abbey run her own magazine in the 1920s.
It's 1930s London, and Lady Georgiana -- thirty-fourth in line to the throne -- has a lot on her plate, but little in her cupboards, in this national bestseller...
Baked beans and boiled eggs. That's what my houseguest, the Bavarian princess, will have to eat if I don't get help posthaste. The Queen of England has requested I entertain said princess, placing her in the playboy prince's path, in hopes he might finally marry.
But queens never consider money, of which I have little. And which is why I moonlight as a maid-in-disguise. My plans:
1) Clean house in manner of palace.
2) Blackmail brother, Binky, into sending a few quid.
3) Unteach Princess Hanni English from gangster movies -- lest she address the queen as "old broad."
4) Keep eye on princess at parties, where she drinks like a fish.
Then there's the matter of the body in the bookshop and Hanni's unwitting involvement with the communist party. It's enough to drive a girl mad...
Buy A Royal Pain at Amazon
Picnic at Hanging Rock
by Joan Lindsay
Have you ever wondered how an urban legend gets started? That is how I felt reading this book. Or maybe it is like a story told around the campfire. Either way, it is a great book for Halloween if you don't go in for the horror novels. It was interesting and my first time reading Australian literature.
A 50th-anniversary edition of the landmark novel about three "gone girls" that inspired the acclaimed 1975 film and an upcoming TV series starring Natalie Dormer
With a foreword by Maile Meloy, author of Do Not Become Alarmed
It was a cloudless summer day in the year 1900. Everyone at Appleyard College for Young Ladies agreed it was just right for a picnic at Hanging Rock. After lunch, a group of three girls climbed into the blaze of the afternoon sun, pressing on through the scrub into the shadows of the secluded volcanic outcropping. Farther, higher, until at last they disappeared. They never returned. . . .
Mysterious and subtly erotic, Picnic at Hanging Rock inspired the iconic 1975 film of the same name by Peter Weir. A beguiling landmark of Australian literature, it stands with Shirley Jackson's We Have Always Lived in the Castle, Daphne du Maurier's Rebecca, and Jeffrey Eugenides' The Virgin Suicides as a masterpiece of intrigue.
Buy Picnic at Hanging Rock at Amazon
In ebook...
Written in Blood
by Layton Green
I love Layton Green's books. This one is a little bit different, more of a crime procedural novel, but still so good. I didn't want put it down and kept getting frustrated with my Nook as my battery doesn't hold much of a charge anymore. My review will post November 9.
Detective Joe "Preach" Everson, a prison chaplain turned police officer, is coming home. After a decade tracking down killers in Atlanta, and with a reputation as one of the finest homicide detectives in the city, his career derailed when he suffered a mental breakdown during the investigation of a serial killer who was targeting children.
No sooner does Preach arrive at home in Creekville, North Carolina--a bohemian community near Chapel Hill--than a local bookstore owner is brutally killed, the first murder in a decade. The only officer with homicide experience, Preach is assigned to the case and makes a shocking discovery: the bookstore owner has been murdered in exactly the same manner as the pawnbroker in Dostoevsky's Crime and Punishment.
With the help of Ariana Hale, a law student and bibliophile who knew the victim, Preach investigates the local writer's community. As their questions increase, a second body is found, this time eerily resembling the crime scene in a famous Edgar Allan Poe novella. Preach and Ariana realize that their adversary is an intelligent, literate killer with a mind as devious as it is disturbed--and one or both of them may be his next target.
Buy Written in Blood at Amazon
Currently Reading
In audio...
The Summer Before the War
by Helen Simonson
My hold for this book came in the day I returned to work after my vacation so I had something to listen to while I went through the 195 emails in my work account. It is a good book and a different look at WWI. It reminds me a bit of the television show Home Fires. I only have about an hour left so I will finish sometime today.
East Sussex, 1914. It is the end of England's brief Edwardian summer, and everyone agrees that the weather has never been so beautiful. Hugh Grange, down from his medical studies, is visiting his Aunt Agatha, who lives with her husband in the small, idyllic coastal town of Rye. Agatha's husband works in the Foreign Office, and she is certain he will ensure that the recent saber rattling over the Balkans won't come to anything. And Agatha has more immediate concerns; she has just risked her carefully built reputation by pushing for the appointment of a woman to replace the Latin master.
When Beatrice Nash arrives with one trunk and several large crates of books, it is clear she is significantly more freethinking—and attractive—than anyone believes a Latin teacher should be. For her part, mourning the death of her beloved father, who has left her penniless, Beatrice simply wants to be left alone to pursue her teaching and writing.
But just as Beatrice comes alive to the beauty of the Sussex landscape and the colorful characters who populate Rye, the perfect summer is about to end. For despite Agatha's reassurances, the unimaginable is coming. Soon the limits of progress, and the old ways, will be tested as this small Sussex town and its inhabitants go to war.
Buy The Summer Before the War at Amazon
Up Next
In ebook...
Mr Dickens and His Carol
by Samantha Silva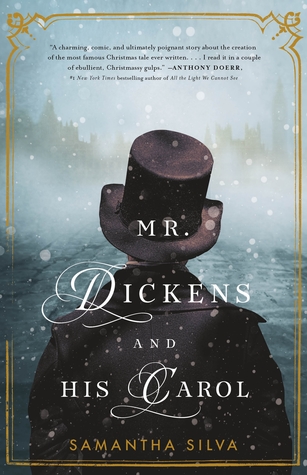 I requested this from NetGalley because I really like reading Charles Dickens and thought this might be an interesting read. Plus the cover is lovely. It comes out on October 31.
Shakespeare in Love meets A Christmas Carol in this transporting debut novel set during the whirlwind period in which Dickens wrote his beloved classic, as he embarks on a Scrooge-like journey of his own.
For Charles Dickens, each Christmas has been better than the last. His novels are literary blockbusters, and he is famous on the streets of London, where avid fans sneak up on him to snip off pieces of his hair. He and his wife have five happy children, a sixth on the way, and a home filled with every comfort they could imagine. But when Dickens' newest book is a flop, the glorious life he has built for himself threatens to collapse around him. His publishers offer an ultimatum: either he writes a Christmas book in a month, or they will call in his debts, and he could lose everything. Grudgingly, he accepts, but with relatives hounding him for loans, his wife and children planning an excessively lavish holiday party, and jealous critics going in for the kill, he is hardly feeling the Christmas spirit.
Increasingly frazzled and filled with self-doubt, Dickens seeks solace and inspiration in London itself, his great palace of thinking. And on one of his long walks, in a once-beloved square, he meets a young woman in a purple cloak, who might be just the muse he needs. Eleanor Lovejoy and her young son, Timothy, propel Dickens on a Scrooge-like journey through his Christmases past and present—but with time running out, will he find the perfect new story to save him?
In prose laced with humor, sumptuous Victorian detail, and charming winks to A Christmas Carol, Samantha Silva breathes new life into an adored classic. Perfect for fans of Dickens, for readers of immersive historical fiction, and for anyone looking for a dose of Christmas cheer, Mr. Dickens and His Carol is destined to become a perennial holiday favorite.
Buy Mr Dickens and His Carol at Amazon
In print...
The Two Georges
by Richard Dreyfus and Harry Turtledove
This is the November book for my book club. It meets on Thursday and I haven't even started it. I'm thinking of skipping this one as the book does not appeal to me, but since I got my copy I figured I should at least try it.
A precious and historic painting has been stolen by terrorists—radical separatists who will stop at nothing to shatter the union. Colonel Thomas Bushell, the government's most fearless agent, is the only man who can stop them.
But this is not our world. For the stolen painting depicts a treaty between George Washington and King George III—a treaty that has kept America under British rule for two centuries. And the terrorists, who call themselves the "Sons of Liberty," want America to be free.
Buy The Two Georges at Amazon
Donna Huber is an avid reader and natural encourager. She is the founder of Girl Who Reads and the author of how-to marketing book Secrets to a Successful Blog Tour.
Get even more book news in your inbox, sign up today!. Girl Who Reads is an Amazon advertising affiliate; a small commission is earned when purchases are made at Amazon using any Amazon links on this site. Thank you for supporting Girl Who Reads.