by Donna Huber
Another month full of great new releases? The flood of new releases that started last month is continuing through November. Here's a few to keep an eye out for.
Amazon affiliate links are used on this site. Covers and descriptions from Goodreads.com.
Tank (SEAL Team Alpha #4) by Zoe Dawson
US Navy SEAL Thorn "Tank" Hunt has been there done that, but when he loses his best friend and military working dog Echo, he's heartbroken, but he has to pick up the pieces and get another partner. He met tough as nails and way too confident for her britches, Army Reserve veterinarian, Dr. Alyssa St. James through his baby brother and her fundraising efforts on behalf of MWDs. The undeniably beautiful, but contrary woman takes on the mission to teach Tank some new tricks and in the process, discover that maybe every once and a while he could roll over and let someone else take the lead.
Doc, as Alyssa is affectionately known at her practice, has had to deal with plenty of macho assholes in her years as a reservist, but although Tank looks like one of them guys, he's anything but. A big man with a big heart tears down her walls and barriers, except, getting involved with a military man like her jerky ex-husband seems counter-intuitive. The distance and the separation devastated their marriage. Determined to stay in control, she's compelled to help him when he is introduced to Blade, a beautiful Belgian Malinois to replace the one lost in battle. Just as much a warrior as the man she is finding irresistible. But as their relationship progresses and Tank works himself deeper into her heart, can they take the hardships of serving their country in stride and make it work?
Available November 1
Buy Tank at Amazon
Longing for His Kiss (Serpent's Kiss #2) by Sherri Hayes
Eight months ago, two uniformed men showed up at Grace Martin's door and told her that her husband wasn't coming home. She's tried to move on, but nothing will make that ache in her chest go away. Kurt wasn't only her husband. He was also her Master. With him gone a part of her is missing and she has no idea how, or even if, she can repair the hole that has been left.
A lot has changed in the last eight months for Alexander Greco. He was injured, spent six months in a VA hospital recovering, was discharged from the Army after ten years of service, and then moved himself halfway across the country to find his friend's widow. He has a letter to deliver to Grace—her husband's final goodbye.
Little does either of them know the letter contains something that will change both their lives.
Available November 2
Buy Longing for His Kiss at Amazon
Hooking Up by Helena Hunting
Amalie Whitfield is the picture of a blushing bride during her wedding reception–but for all the wrong reasons. Instead of proclaiming his undying love, her husband can be heard, by Amalie and their guests, getting off with someone else. She has every reason to freak out, and in a moment of insanity, she throws herself at the first hot-blooded male she sees. But he's not interested in becoming her revenge screw.
Mortified and desperate to escape the post-wedding drama, Amalie decides to go on her honeymoon alone, only to find the man who rejected her also heading to the same tiny island for work. But this time he isn't holding back. She should know better than to sleep with someone she knows, but she can't seem to resist him.
They might agree that what happens on the island should stay on the island, but neither one can deny that their attraction is more than just physical.
Filled with hilariously scandalous situations and enough sexual chemistry to power an airplane from New York City to the South Pacific, Hooking Up is the next standalone, laugh-out-loud romantic comedy from Helena Hunting, the New York Times bestselling author of the Pucked series and Shacking Up.
Available November 7
Buy Hooking Up at Amazon
Written in Blood by Layton Green
Detective Joe "Preach" Everson, a prison chaplain turned police officer, is coming home. After a decade tracking down killers in Atlanta, and with a reputation as one of the finest homicide detectives in the city, his career derailed when he suffered a mental breakdown during the investigation of a serial killer who was targeting children.
No sooner does Preach arrive at home in Creekville, North Carolina--a bohemian community near Chapel Hill--than a local bookstore owner is brutally killed, the first murder in a decade. The only officer with homicide experience, Preach is assigned to the case and makes a shocking discovery: the bookstore owner has been murdered in exactly the same manner as the pawnbroker in Dostoevsky's Crime and Punishment.
With the help of Ariana Hale, a law student and bibliophile who knew the victim, Preach investigates the local writer's community. As their questions increase, a second body is found, this time eerily resembling the crime scene in a famous Edgar Allan Poe novella. Preach and Ariana realize that their adversary is an intelligent, literate killer with a mind as devious as it is disturbed--and one or both of them may be his next target.
Available November 7
Buy Written in Blood at Amazon
End Game (Will Robie #5) by David Baldacci
Will Robie and Jessica Reel are two of the most lethal people alive. They're the ones the government calls in when the utmost secrecy is required to take out those who plot violence and mass destruction against the United States. And through every mission, one man has always had their backs: their handler, code-named Blue Man.
But now, Blue Man is missing.
Last seen in rural Colorado, Blue Man had taken a rare vacation to go fly fishing in his hometown when he disappeared off the grid. With no communications since, the team can't help but fear the worst.
Sent to investigate, Robie and Reel arrive in the small town of Grand to discover that it has its own share of problems. A stagnant local economy and a woefully understaffed police force have made this small community a magnet for crime, drugs, and a growing number of militant fringe groups.
But lying in wait in Grand is an even more insidious and sweeping threat, one that may shake the very foundations of America. And when Robie and Reel find themselves up against an adversary with superior firepower and a home-court advantage, they'll be lucky if they make it out alive, with or without Blue Man.
Available November 14
Buy End Games at Amazon
Fragments of the Lost by Megan Miranda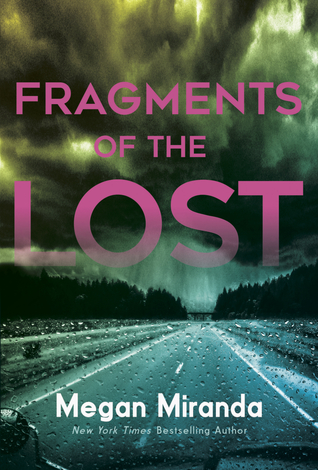 Jessa Whitworth knew she didn't belong in her ex-boyfriend Caleb's room. But she couldn't deny that she was everywhere--in his photos, his neatly folded T-shirts, even the butterfly necklace in his jeans pocket . . . the one she gave him for safe keeping on that day.
His mother asked her to pack up his things--even though she blames Jessa for his accident. How could she say no? And maybe, just maybe, it will help her work through the guilt she feels about their final moments together.
But as Jessa begins to box up the pieces of Caleb's life, they trigger memories that make Jessa realize their past relationship may not be exactly as she remembered. And she starts to question whether she really knew Caleb at all.
Each fragment of his life reveals a new clue that propels Jessa to search for the truth about Caleb's accident. What really happened on the storm-swept bridge?
Available November 14
Buy Fragments of the Lost at Amazon
Perennials by Julie Cantrell
When two estranged sisters reunite for their parents' 50th anniversary, a family tragedy brings unexpected lessons of hope and healing amid the flowers of their mother's perennial garden.
Eva—known to all as Lovey—grew up in Oxford, MS, surrounded by literary history and her mother's stunning perennial gardens. But a garden shed fire and the burns suffered by one of her best friends seemed to change everything. Her older sister Bitsy blamed her for the fire—and no one spoke up on her behalf. Bitsy the cheerleader, Bitsy the homecoming queen, Bitsy married to a wealthy investor. And all the while, Lovey blamed for everything that goes wrong.
At eighteen, Lovey turns down a marriage proposal, flees from Oxford and the expectations of attending Ole Miss, and instead goes to Arizona—the farthest thing from the South she can imagine. She becomes a successful advertising executive, a weekend yoga instructor, and seems to have it all together. But she's alone. And on her 45th birthday, she can't help but wonder what's wrong.
When she gets a call from her father—still known to everyone as Chief from his Ole Miss football days—insisting that she come home three weeks early for her parents' 50th wedding anniversary celebration, she's at wits end. She's about to close the biggest contract of her career, the one that will secure her financial goals and set her up for retirement. But his words, "Family First," hit too close to home. Is there hope for her estranged relationship with Bitsy after all this time?
Eva's journey home, to the memory garden her father has planned as an anniversary surprise for her mother, becomes one of discovering roots, and truth, and love, and what living perennially in spite of disappointments and tragedy really means. Eva thought she wanted to leave her family and the South far behind . . . but she's realizing she hasn't truly been herself the whole time she's been gone.
Available November 14
Buy Perennials at Amazon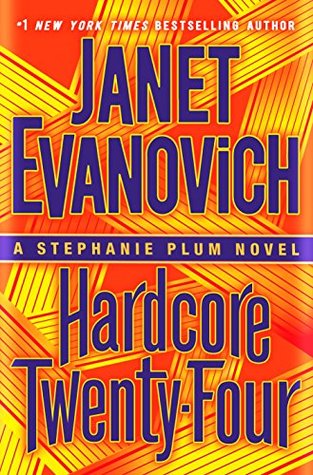 Hardcore Twenty-Four (Stephanie Plum #24) by Janet Evanovich
This Jersey girl hits hard—twenty-four seven. The blockbuster Stephanie Plum series continues with Hardcore Twenty-Four from #1 New York Times bestselling Janet Evanovich.
Available November 14
Buy Hardcore Twenty-Four at Amazon
Sweet Little Memories (Sweet #3) by Abbi Glines
Book #3 in the Sweet Little Series. Trusting again and facing the lies that had surrounded her entire life, Beulah is ready to move on. Love and enjoy the man she's found happiness with. When the past comes back yet again with one last skeleton in the closet.
Available November 16
Buy Sweet Little Memories at Amazon
The Complete Sookie Stackhouse Stories by Charlaine Harris
For the first time together in one volume, here is the complete short story collection starring Louisiana's favorite telepathic waitress, Sookie Stackhouse--from #1 New York Times bestselling author Charlaine Harris. New fans can fill in the gaps in their Sookie lore while old friends can revisit some of their favorite moments and characters. From investigating the murder of a local fairy to learning that her cousin was a vampire, from remodeling her best friend's house to attending a wedding with her shapeshifting boss, Sam, Sookie navigates the perils and pitfalls of the paranormal world.
Belly up to the bar at Bon Temps's favorite watering hole and hear stories that will make you wish Sookie never left, including...
"Fairy Dust"
"One Word Answer"
"Dracula Night"
"Lucky"
"Gift Wrap"
"Two Blondes"
"If I Had a Hammer"
"Small-Town Wedding"
"Playing Possum"
"In the Blue Hereafter"
This definitive collection is the perfect binge read for people who like their stories with bite!
Available November 21
Buy The Complete Sookie Stackhouse Stories at Amazon
The Brightest Embers (Broken Destiny #3) by Jeaniene Frost
You can run from your destiny, but you can't hide
Ivy thought that she and Adrian had conquered their fates. Yet with thousands of innocents still trapped in the demon realms, she's determined to locate the final hallowed weapon and harness its unparalleled power to free them. But the last relic nearly put Ivy in the grave—there's probably no coming back from this one.
Adrian's dark lineage has made him the most powerful of his kind, yet even his incredible abilities might not be enough now. Instead, the treacherous fate he has fought so hard to escape might be the only way he can save Ivy. Their scintillating bond has been tested before, but never with so much on the line. Now fate will come head-to-head against true love, and nothing they've endured can prepare Ivy and Adrian for the unthinkable choices they'll face.
Available November 28
Buy The Brightest Embers at Amazon
Get even more book news in your inbox, sign up today! Girl Who Reads is an Amazon advertising affiliate; a small commission is earned when purchases are made at Amazon using any Amazon links on this site. Thank you for supporting Girl Who Reads.