by Donna Huber
Perfect fall day: book, cinnamon tea, and pumpkin teacakes
Wow! What a month October has been. We have featured a bunch of books and I personally have read 15 books. I think this is the most books I have read in one month in a long time. I had a bit of a health scare this month so I think I retreated into the world of fiction to escape the stress. All is well now, but I hope to keep the reading momentum going. Let's take a look at this month.
Amazon affiliate links are used on this site. A free book was provided by an honest review.
Around Girl Who Reads
Features writer and author
C.M. North
discussed
why he writes
. While features writer and author
Alison Deluca
took a trip down memory lane
with a Great American Read book
Alice in Wonderland
.
Speaking of the Great American Read reviewer
Susan Roberts
took a break from her regular reviews to discuss another of
her favorites from the list
,
Gone with the Wind
.
Of course, we had our typical month full of reviews from a large variety of genres. Be sure to check out
MK French
's
Halloween Reads: Horror & Paranormal Fantasy
if you need something seasonal to read. You can check out all of
MK's
and
Susan
's reviews by clicking on their names.
My October Stats
To date, I've read 98 of the 100 books I set as a goal for the year. As I said earlier I read 15 books this month: 5 audiobooks, 2 print book, 8 ebooks. 4 of the books were review copies (1 audio, 3 ebooks). I didn't do so well at reading review copies this month so I will try to get to more in November. Also, I think I will read more print copies since I had an ebook heavy month.
Read
In Audio...
Heirs of Grace
by Tim Pratt
This isn't my typical read, but I really enjoyed. I wish it was a series because I quite liked the characters. With the strange house and magic, this would be a great Halloween read for those that don't care for the scary. This was a free Prime read with Audible narration.
Recent art school graduate Bekah thought she'd hit the jackpot: an unknown relative died, and she inherited a small fortune and a huge house in the mountains of North Carolina.
Trey Howard, the lawyer who handled the estate, is a handsome man in his twenties, and they hit it off right away, and soon become more than friends. Bekah expected a pleasant year to get her head together and have a romantic fling. Problem is, the house is full of junk...and siblings she didn't know she had are willing to kill her for it.
More important, the junk in her new house is magical, she's surrounded by monsters, and her life seems to be in mortal peril every time she ventures into a new room. As Bekah discovers more about her mysterious benefactor and the magical world he inhabited, she realizes that as tough and resourceful as she is, she might just be in over her head.
Buy Heirs of Grace at Amazon
Sunbaked
by Junie Coffey
Sunbaked is a fun cozy mystery to listen to. It made me want to buy an island home when I retire. Loved the characters, loved the setting, loved the narrator. I will probably check out other books in this series when I'm needing an island getaway. If you aren't ready to let summer go or need a break from winter dreariness, I recommend this book. It was a free Prime ebook with Audible narration.
Thirty-six-year-old Nina Spark has done something crazy. After knocking back a night's worth of wine, she's bought a house in the Caribbean. Off the Internet. At 2:00 a.m.
Committing to the most impulsive decision she's ever made, Nina leaves her cheating ex-husband behind, puts her teaching career in New York on hold, and moves to Pineapple Cay—a land of white sand, cloudless skies, and turquoise waters.
Her new life is off to a lovely start: she's got a private beach, a handsome neighbor, and a cushy travel-writing assignment. Even Barry Bassett, a greedy land developer eager to push her out to make way for condos, can't darken her sunny new outlook.
But when Barry's wife goes missing, along with a priceless jeweled necklace, Nina finds herself at the center of the island's biggest whodunit. With her quirky but fiercely loyal new friends, Nina is determined to solve the mystery—so both she and Pineapple Cay can get back to easy living.
Buy Sunbaked at Amazon
The Rose Girls
by Victoria Connelly
For fans of women's fiction and family life. I enjoyed the story and the audiobook was well done.
Thirty-year-old Celeste Hamilton's life is at a crossroads: she has just left a disastrous marriage, and her estranged mother has recently died, leaving the family's rose business in jeopardy. Reluctantly, Celeste returns to the family home, a moated manor house in Suffolk, to help her two younger sisters sort out the estate and revive the business.
Having endured the fallout from her mother's narcissistic personality disorder when she was younger, Celeste is filled with self-doubt and crippling insecurities. But she must find the strength and courage to take charge and make some tough decisions to keep the old house from falling down around them.
The Rose Girls is an uplifting, tender and romantic story of courage, perseverance and the healing power of family.
Buy The Rose Girls at Amazon
The Woman on the Orient Express
by Lindsay Jayne Ashford
I haven't verified the accuracy of the story, but it was an enjoyable story. I loved the characters and the exotic locale. Everything was so vibrant, that it was easy to imagine the story in my head. Of the audiobooks I listened to this month, I think this one is BEST OF THE BUNCH. It was a free Prime ebook with Audible narration.
Hoping to make a clean break from a fractured marriage, Agatha Christie boards the Orient Express in disguise. But unlike her famous detective Hercule Poirot, she can't neatly unravel the mysteries she encounters on this fateful journey.
Agatha isn't the only passenger on board with secrets. Her cabinmate Katharine Keeling's first marriage ended in tragedy, propelling her toward a second relationship mired in deceit. Nancy Nelson—newly married but carrying another man's child—is desperate to conceal the pregnancy and teeters on the brink of utter despair. Each woman hides her past from the others, ferociously guarding her secrets. But as the train bound for the Middle East speeds down the track, the parallel courses of their lives shift to intersect—with lasting repercussions.
Filled with evocative imagery, suspense, and emotional complexity, The Woman on the Orient Express explores the bonds of sisterhood forged by shared pain and the power of secrets.
Buy The Woman on the Orient Express at Amazon
See No Evil My Pretty Lady
by Miss Mae
I was looking through my Audible library and realized I never listened to this audiobook that I was given for review. I really liked the narrator right off the bat. The story is creepy without delving into horror. I think it would make a great Halloween listen. It has the feel of the ghost stories told around the campfire (but there are no ghosts or anything paranormal). It's short too; it's just over 4 hours.
New maid Dorcy Edwards flees the scene of where her employer's body is found. His murder sparks a chain of macabre events. Cloistered on a remote island with five strangers, including Gareth Davenport, her late employer's brooding, but darkly handsome heir, Dorcy encounters baffling questions with what she fears may be terrifying answers. Who cut the telegraph lines? Who left a mutilated animal carcass outside her bedroom door? What is the reason for Gareth's black gloves and eye patch? Can he be "Jack the Ripper", the madman suspected to be Mr. Davenport's killer? Dorcy must solve the mystery, and soon, or her growing attraction for Gareth could be her very death sentence.
Buy See No Evil My Pretty Lady at Amazon
In Print...
Aftermath
by Levar Burton
Unlike most of the books my book club has read, this was a quick read. I think there was a bit too much repetition in the writing. It also became a bit too melodramatic towards the end for my taste. Also, I don't think Burton knows where UGA is as he had a character working there but living in Atlanta. While possible, I don't think it feasible for a single dad who is active in his child's life. Did he really want to be a 90-minute drive away should she get sick or injured at school? Overall it was a great read that really sucked me in.
The United States of 2019 is a very different place. Economic depression, an enormous earthquake, and the assassination of a black President-elect have turned the country into a war zone. Four people, each as different and troubled as the next, are the nation's last hope. But can they overcome the devastation and build a new world?
A novel on an America torn by race wars where black people are kidnaped to serve as body-part donors. The heroine is a woman who invents a machine that increases the body's immune system to the point where disease is conquered.
Buy Aftermath at Amazon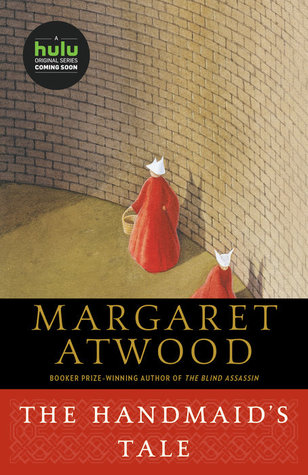 A Handmaid's Tale
by Margaret Atwood
This is the book from the Great American Read list that my post-apocalyptic book club chose. I'm leading the discussion on Thursday. I think it will be a good discussion. There is definitely a lot of information out there regarding the book so that's should be helpful in putting together an information sheet for the group. Join the discussion! I posted the discussion guide I made up for my book club.
Offred is a Handmaid in the Republic of Gilead. She may leave the home of the Commander and his wife once a day to walk to food markets whose signs are now pictures instead of words because women are no longer allowed to read. She must lie on her back once a month and pray that the Commander makes her pregnant, because in an age of declining births, Offred and the other Handmaids are valued only if their ovaries are viable. Offred can remember the years before, when she lived and made love with her husband, Luke; when she played with and protected her daughter; when she had a job, money of her own, and access to knowledge. But all of that is gone now.
Buy A Handmaid's Tale at Amazon
In ebook...
Putting the Science in Fiction
edited by Dan Koboldt
If you write medical dramas or science fiction, then this is a book you will want in your toolbox. As far as something to read cover to cover, I found it to be rather dry. But as a resource for writers, it is excellent (presumably an author would read through the set of essays that pertained to their novel). I'm not sure if this collection of essays appeared on the mentioned blog, but I think some of the articles would have been easier to read online as I don't skim read as easily on my e-reader. I recieved a free egalley from Netgalley. Read my full review.
Science and technology have starring roles in a wide range of genres--science fiction, fantasy, thriller, mystery, and more. Unfortunately, many depictions of technical subjects in literature, film, and television are pure fiction. A basic understanding of biology, physics, engineering, and medicine will help you create more realistic stories that satisfy discerning readers.
This book brings together scientists, physicians, engineers, and other experts to help you:
Understand the basic principles of science, technology, and medicine that are frequently featured in fiction. Avoid common pitfalls and misconceptions to ensure technical accuracy. Write realistic and compelling scientific elements that will captivate readers. Brainstorm and develop new science- and technology-based story ideas. Whether writing about mutant monsters, rogue viruses, giant spaceships, or even murders and espionage, Putting the Science in Fiction will have something to help every writer craft better fiction.
Putting the Science in Fiction collects articles from "Science in Sci-fi, Fact in Fantasy," Dan Koboldt's popular blog series for authors and fans of speculative fiction (
dankoboldt.com/science-in-scifi
). Each article discusses an element of sci-fi or fantasy with an expert in that field. Scientists, engineers, medical professionals, and others share their insights in order to debunk the myths, correct the misconceptions, and offer advice on getting the details right.
Buy Putting the Science in Fiction at Amazon
The Hitwoman and the Gold Digger
by JB Lynn
An excellent cozy mystery. There is so much craziness happening in this book. Definitely one of my favorite entries in this series. Of the ebooks I read this month, this one is BEST OF THE BUNCH. A free ebook was provided by the author for an honest review. Read my full review.
Just when she thinks she may be catching a break, Maggie Lee is saddled with babysitting her psychic friend, Armani, whose spirit guides have suddenly deserted her. They never warned Armani that she'd be robbed while waiting for an online date who stood her up or that someone would break into her home.
But investigating the trouble in her friend's world isn't Maggie's only problem. Someone shoots her avian pal, Mike, and Maggie is determined to find out whom.
Neither task is easy, but Maggie's difficulties are intensified by trying to keep her unruly household running in the absence of Aunt Susan, who seems to have dropped off the planet.
And oh yeah, Maggie's ne'er-do-well dad has returned to town.
Can Maggie successfully juggle her investigations, cops, bad guys, a reporter, her menagerie and her crazy family? Or will it all be too much for her?
Buy The Hitwoman and the Gold Digger at Amazon
The Not So Perfect Plan to Save Friendship House
by Lilly Bartlett
I usually really enjoy Lilly Barlett books, but this one didn't really work for me. The main character was way too whiny. And while the title made it sound like the book would be about the care home, but it felt like the book was more about Phoebe dealing with the death of her mom. A free book was provided for an honest review. It appears that the title has been changed to The Happy Home for Ladies. Read my full review.
Meet Phoebe, who's 28, and Laney, Dot and Maggie, who are 68, 78, and none of your business. Together they'll prove that age doesn't matter when it comes to friendship, belonging and an unquenchable zest for life.
When Framlingham's famously all-female senior living home goes co-ed, a war between the sexes is declared.
Stuck in the middle, chef Phoebe Stockton is desperate to help her friends plot to keep the community that means so much to them. It's become her life raft, too. She finds comfort in her beloved career that might finally make her parents proud. But Phoebe's darling Nick is lining up on the other side of the battle, and their relationship is suffering collateral damage.
The stakes couldn't be higher. If the home's owner can't improve business by moving the men in, he'll have to close down the Happy Home for Ladies.
The women aren't about to let that happen.
Buy The Happy Home for Ladies at Amazon
Murder Any Witch Way
by N. M. Howell
I picked this up for free as I like to read paranormal cozy mysteries in October. I was a bit disappointed with it overall. The mystery was good and the author did a good job misdirecting the reader. The book could have used a bit of polish and maybe a bit of research on how the newspaper business works. But my main disappointment was that there wasn't any magic even though the main character is a witch.
Being a witch is hard. It's even harder when you live in a town that doesn't believe in witches. When young witch River Halloway moves to sleepy Brimstone Bay for her very first journalist job, she doesn't expect to cover anything ground-breaking. That is, until a paranormal festival comes to town and a body is found on opening night. Now, with all evidence pointing towards a witch, River must find the true killer before she becomes the prime suspect, or worse, the next murder victim.
Buy Murder Any Witch Way at Amazon
Murder of a Werewolf
by April Fernsby
This was a pretty good paranormal cozy mystery. There were some plot holes that I would like to have had explained (like why did Cassia and her grandmother live in the real world but the other magical beings had to remain in Brimstone? and it was never really explained why the other residents were acting the way they were towards Cassia). I did like the characters. I would read another book in this series. I downloaded this from Amazon Top Free list.
Just like her gran, Cassia Winter is a witch. The Winter witches are responsible for investigating crimes in Brimstone. The only problem is, Cassia doesn't know she's a witch yet.
When Gran tells Cassia about her true nature, Cassia dismisses it as nonsense. But a terrible incident causes Cassia to change her mind. With her cat, Stanley, at her side, Cassia enters Brimstone and is soon investigating the murder of a werewolf.
Buy Murder of a Werewolf at Amazon
Gone with the Ghost
by Erin McCarthy
This was an interesting paranormal cozy mystery. I was kept guessing about who were the bad guys and who were the good guys. Everyone had lies and secrets. I would read more in this series. I downloaded this from Amazon's Top Free list.
Bailey Burke has had a rough six months—it's not easy thinking your romantic overtures toward your best friend caused him to kill himself. Except that's exactly what happened. Ryan is very much dead, having shot himself with his own police-issued gun. Guilt and grief shouldn't cause hallucinations though, but six months after Ryan went into the ground, Bailey is freaking out and swearing his ghost is standing in her kitchen. Which he is…
Ryan claims he didn't commit suicide, but was murdered, and he needs Bailey to help him find his killer so he can earn his ticket out of purgatory. Ryan's counting on a stairway to heaven, as opposed to wings, since that might be a little unmanly for a cop, even a dead one.
An expert in home design, with her own staging business, Bailey can tell you where to place a couch to improve flow and comfort, but solving a crime? Not her area of expertise. But with help from Ryan's former partner, Marner, she is unraveling the mystery of what happened to Ryan that day… and unwittingly putting herself in grave danger.
Buy Gone with the Ghost at Amazon
The Witches of Enchanted Bay
by Amelia Morgan
I thought the story and the writing were weak. There is a lot of unnecessary repetition and recapping. The main character was likable and has potential to grow in the series. I don't really care if I read any more in this series. I downloaded this from Amazon's Top Free list.
Welcome to Enchanted Bay, a picture-perfect small town on the coast of Northern California. Meg Walton comes from a long line of witches. It's a secret her family has been keeping for generations. The Waltons have been living a quiet existence, running the local donut shop in town. All that changes when a murder occurs. Enter Connor Smith, Meg's former crush, who left for San Francisco ten years before, and who has now returned to town as the new detective with the Enchanted Bay police department. If Meg's feelings were mixed enough over having Connor back in town, the detective wrongfully suspects one of Meg's good friends for murder. To prove her friend's innocence, Meg has to find the real killer herself--with the help of a few good spells.
Buy The Witches of Enchanted Bay at Amazon
Miss Spelled
by Morgana Best
I really enjoyed this paranormal cozy. It took a bit to really get to the plot as the first half was all about getting to know the characters. I loved the little town. Though apparently set in Australia, it didn't feel like it. I wish it had had more of an Australian feel.
Amelia Spelled has had a bad week. Her boyfriend dumps her when she inadvertently gives him food poisoning. Her workplace, a telecommunications center, fires all their staff as they are outsourcing offshore, and she is evicted due to smoke damage resulting from her failed attempts at baking. Amelia thinks her luck has changed when she inherits her estranged aunt's store, two mysterious cats, and a beautiful Victorian house.
Yet has Amelia jumped out of the frying pan into the fire? To Amelia's dismay, the store is a cake store, and she discovers that her aunt was a witch. To add to the mix, the house has secrets of its own.
When a man is murdered in the cake store, will Amelia be able to cook up a way to solve the crime? Or will her spells prove as bad as her baking?
Buy Miss Spelled at Amazon
Donna Huber is an avid reader and natural encourager. She is the founder of Girl Who Reads and the author of how-to marketing book Secrets to a Successful Blog Tour.
Linked to
It's Monday! What are you reading?
at Book Date,
Monthly Wrap-up
(with giveaway) at Feed Your Fiction Addiction, and
Best of the Bunch
at A Cocoon of Books.
Get even more book news in your inbox, sign up today! Girl Who Reads is an Amazon advertising affiliate; a small commission is earned when purchases are made at Amazon using any Amazon links on this site. Thank you for supporting Girl Who Reads.