by Donna Huber
The return of warm weather means that my reading time is now being usurped by yard work. While I was 6 books ahead of schedule on my reading challenge, I'm not only 4 books ahead. That is still very good for me. I only read 7 books this month, though I guess with almost a week left in the month I might get another book in.
Amazon affiliate links are used on this site.
Read:
In audio...
Key Largo Blues
by Lynne M. Spreen
The author sent me this audiobook for review, and although I had not read the first book, I enjoyed the story. If you like books with mature female leads or have a girls' road trip planned, then I recommend getting this book. Read my full review.
When Karen Grace turned fifty, she lost her husband and her job. Now she's starting over, and this time, she's determined to build a new life on her own terms. However, she's being pulled in multiple directions: her family and friends want more of her time, her hometown sweetheart wants a commitment, and her fledgling business is on life support.
With the hard-won confidence of midlife, Karen knows what she needs to do, and pays the heartbreaking price for pursuing her dreams. While grieving that decision, another challenge lands: Frieda's granddaughter arrives on her doorstep in Key Largo, pleading for refuge.
In this life-affirming sequel to Dakota Blues, Karen Grace completes her journey, deciding what can be saved and what must be jettisoned as she navigates passage into the second half of her life.
Buy Key Largo Blues at Amazon
End Game
by David Baldacci
I haven't read too many of David Baldacci, but each time I pick one up I find myself enthralled by the story. At first, I thought the plot might be too intricate to follow easily on audiobook, but it wasn't. I couldn't wait to get back to the story each day.
London is on red alert. Will Robie, as the US government's most lethal assassin, is called in to foil a terrorist attack on the London Underground. An attack serving as a test run for a much larger plot to take place on US soil. Trained to neutralize threats without leaving a trace, he's an indispensable asset to his country.
But then reports come in that his mentor, Blue Man, real name Roger Walton, has gone missing while visiting his home town in Colorado. Fearing he's been kidnapped, Robie, and fellow agent Jessica Reel, are sent to investigate. The high-ranking CIA official holds secrets that could threaten national security if released and so only the best will do in tracking him down.
This tight-knit community close to the Rocky Mountains holds many secrets and people there are more than willing to take the law into their own hands at the first sign of trouble. To them, two government agents are just that.
As their investigation deepens, Robie and Reel come into contact with white supremacists and a cult that call themselves the King's Apostles. But are either group implicated in the disappearance of Walton? When the truth emerges it will test them both to their very limits . . .
Buy End Game at Amazon
William Wilde and the Necrosed
by Davis Ashura
I got this audiobook from Audible for review and it was a fun young adult fantasy novel in the vein of Percy Jackson. If you have a family car trip planned this summer, this would be a great choice for the whole family to enjoy together. Read my full review.
A riveting tale of magic, mystery, and adventure, The Chronicles of William Wilde will thrill listeners who loved The Summoner Trilogy and The Maze Runner.
On a cold winter's night, just shy of his 17th birthday, William Wilde became an orphan. It was a simple car accident that claimed the lives of his family.
Eight months later, at the start of his senior year of high school, a beautiful, mysterious girl enters William's life. Captivating and confident, she holds secrets about William's heritage, secrets of which he himself is unaware: rare magic flows in William's veins.
And watching William from afar is Kohl Obsidian, a monstrous, undead horror. He won't rest until the tragedy he started eight months ago culminates with William's death.
William's life hangs in the balance, and he must discover a means to vanquish a creature that has never been defeated.
Enter a mystical world where heroes are forged from the unlikeliest of metals.
Buy William Wilde and the Necrosed at Amazon
In print...
Do Androids Dream of Electric Sheep?
by Philip K. Dick
This was my post-apocalyptic book club's read for May. In truth I found it to be a bit boring. It was interesting to see how an author in 70's envisioned today. I didn't think it inspired a very good discussion either. I recently watched the original Blade Runner movie (it is free on the Roku Channel FilmRise) and though I usually enjoy Harrison Ford movies, I almost didn't make it through the movie. I noticed that there is an Amazon show based on Philip K. Dick's work. Maybe I will try it.
By 2021, the World War has killed millions, driving entire species into extinction and sending mankind off-planet. Those who remain covet any living creature, and for people who can't afford one, companies build incredibly realistic simulacra: horses, birds, cats, sheep. They've even built humans. Immigrants to Mars receive androids so sophisticated they are indistinguishable from true men or women. Fearful of the havoc these artificial humans can wreak, the government bans them from Earth. Driven into hiding, unauthorized androids live among human beings, undetected. Rick Deckard, an officially sanctioned bounty hunter, is commissioned to find rogue androids and "retire" them. But when cornered, androids fight back--with lethal force.
Buy Do Androids Dream of Electronic Sheep? at Amazon
Heirs and Graces
by Rhys Bowen
One of the reasons I attend my book club is so I can check out another book in Her Royal Spyness series. I hope to be caught up with this series by the next time the next book comes out (which I don't know when that will be). I loved that we get to see more of Darcy and Georgie together. And I was happy that the mystery was a little different as it was starting to be too cookie cutter.
As thirty-fifth in line for the throne, Lady Georgiana Rannoch may not be the most sophisticated young woman, but she knows her table manners. It's forks on the left, knives on the right, not in His Majesty's back.
Here I am thinking the education I received at my posh Swiss finishing school would never come in handy. And while it hasn't landed me a job, or a husband, it has convinced Her Majesty the Queen, and the Dowager Duchess to enlist my help. I have been entrusted with grooming Jack Altringham, the Duke's newly discovered heir fresh from the Outback of Australia, for high society.
The upside is I am to live in luxury at one of England's most gorgeous stately homes. But upon arrival at Kingsdowne Place, my dearest Darcy has been sent to fetch Jack, leaving me stuck in a manor full of miscreants, none of whom are too pleased with the discovery of my new ward.
And no sooner has the lad been retrieved than the Duke announces he wants to choose his own heir. With the house in a hubbub over the news, Jack's hunting knife somehow finds its way into the Duke's back. Eyes fall, backs turn, and fingers point to the young heir. As if the rascal wasn't enough of a handful, now he's suspected of murder. Jack may be wild, but I'd bet the crown jewels it wasn't he who killed the Duke.
Buy Heirs and Graces at Amazon
The Feather Thief
by Kirk Wallace Johnson
This was quite a surprise. I wasn't expecting to enjoy it as much as I did. I won it in a Goodreads giveaway and when I got it, I wondered why I wanted a true crime book. It isn't a genre I typically read. But Johnson did a great job of making this an interesting story. My full review will post on Thursday.
On a cool June evening in 2009, after performing a concert at London's Royal Academy of Music, twenty-year-old American flautist Edwin Rist boarded a train for a suburban outpost of the British Museum of Natural History, armed with a pair of latex gloves, a miniature LED flashlight, and a diamond-blade glass cutter. Home to one of the largest ornithological collections in the world, the Tring museum was full of rare bird specimens whose coppery orange, emerald, and iridescent blue feathers were worth staggering amounts of money to the men who shared Edwin's obsession: the Victorian art of salmon fly-tying, in which exotic feathers are fastened in intricate patterns around fishing hooks. Over the next few hours, the champion fly-tier grabbed hundreds of bird skins--some collected 150 years earlier by a contemporary of Darwin's, Alfred Russel Wallace, who'd risked everything to gather them--and escaped into the darkness.
Two years later, Kirk Wallace Johnson was waist high in a river in northern New Mexico, fly-fishing for trout, when his guide told him about the heist. He was soon consumed by the strange case of the feather thief. What would possess a person to steal dead birds from a museum? Had Edwin paid the price for his crime? What became of the missing skins? In his search for answers, Johnson was catapulted into a years-long, worldwide investigation, infiltrating the underground network of fly-tiers and feather smugglers, and tracking down the thief and his suspected accomplices in a single-minded search for the missing birds. The gripping story of a bizarre and shocking crime, and one man's relentless pursuit of justice, The Feather Thief is also a fascinating exploration of obsession, and man's destructive instinct to harvest the beauty of nature.
Buy The Feather Thief at Amazon
In ebook...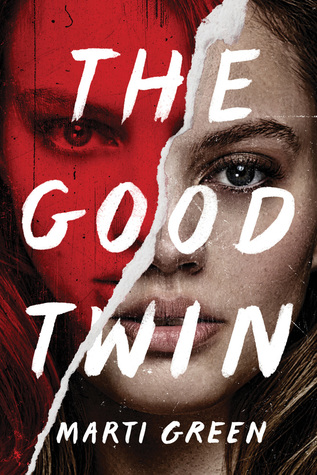 The Good Twin
by Marti Green
I love a good dark thriller, but when I started this book I didn't think I would make it through it. I don't know if I just wasn't in the mood for a dark story or if it was the fact a sibling could plot the murder of her sister. But I'm glad I stuck with it. Read my full review.
Mallory Holcolm is an unfulfilled waitress and aspiring artist living in a Queens boardinghouse when she learns something astonishing about her past: she has an identical twin sister named Charly she never knew existed.
Charly is a Princeton graduate, a respected gallery owner, and an heiress married to her handsome college sweetheart, Ben. Charly got everything she ever wanted. Everything Mallory wanted, too. And now it might be easier than Mallory ever imagined. Because Ben has reasons of his own for wanting to help her.
It begins with his startling proposal. All Mallory has to do is say yes.
But as their devious plan falls into place, piece by piece, Mallory learns more about her sister and herself than she ever meant to—a discovery that comes with an unexpected twist. A chilling deception is about to become a dangerous double cross. And it's going to change the rules of Ben and Mallory's game to the very end.
Buy The Good Twin at Amazon
Reading Now:
Borne
by Jeff VanderMeer
This is my book club read for June. I'm actually getting it started a bit earlier than I usually do. I'm looking forward to it since it got a good review from Alison DeLuca.
In a ruined, nameless city of the future, Rachel makes her living as a scavenger. She finds a creature she names Borne entangled in the fur of Mord, a gigantic despotic bear that once prowled the corridors of a biotech firm, the Company, until he was experimented on, grew large, learned to fly, and broke free. Made insane by the company's torture of him, Mord terrorizes the city even as he provides sustenance for scavengers.
At first, Borne looks like nothing at all—just a green lump that might be a discard from the Company, which, although severely damaged, is rumored to still make creatures and send them to far-distant places that have not yet suffered collapse.
Borne reminds Rachel of the island nation of her birth, now long lost to rising seas. She feels an attachment that she resents: attachments are traps, and in this world any weakness can kill you. Yet when she takes Borne to her subterranean sanctuary, Rachel convinces her lover, Wick—a special kind of dealer—not to render down Borne as raw genetic material for the drugs he sells.
But nothing is quite the way it seems: not the past, not the present, not the future. If Wick is hiding secrets, so is Rachel—and Borne most of all. What Rachel finds hidden deep within the Company will change everything and everyone. There, lost and forgotten things have lingered and grown. What they have grown into is mighty indeed.
Buy Bourne at Amazon
Starting on Wednesday, I'm hosting the Book Blog Expo, which is an online networking event for bloggers.
Check out the daily topics, Instagram challenges and live chats
. I hope you will join us.
Donna Huber is an avid reader and natural encourager. She is the founder of Girl Who Reads and the author of how-to marketing book Secrets to a Successful Blog Tour.
Get even more book news in your inbox, sign up today! Girl Who Reads is an Amazon advertising affiliate; a small commission is earned when purchases are made at Amazon using any Amazon links on this site. Thank you for supporting Girl Who Reads.